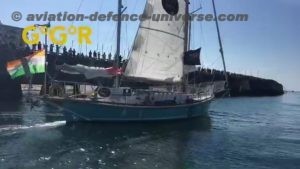 New Delhi. 01 Jul 2018. Commander Abhilash Tomy of the Indian Navy is all set to head off on a unique voyage. The officer is the only invitee from Asia to participate in the prestigious Golden Globe Race (GGR) that commences from Les Sables d'Olonne harbour in France today.
The participants are required to sail around the world, single-handed and non-stop. The uniqueness of the race is that boat designs and technology newer than 1968 is not permitted, hence use of Global Positioning System (GPS), satellite communication, navigational aids, etc is forbidden.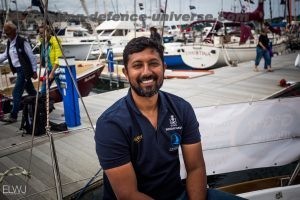 The Golden Globe Race is being conducted by Sir Robin Knox Johnston of UK to commemorate 50 years since the world's first solo non-stop circumnavigation undertaken by him in 1968 onboard the Indian built boat, Suhaili. Commander Abhilash Tomy is one of India's most prominent sailors. He has covered 53,000 nautical miles under sail, including a solo non-stop circumnavigation of the globe in 2012-13 onboard Indian Naval Sailing Vessel (INSV) Mhadei. He is also a recipient of the Kirti Chakra, Mac Gregor and Tenzing Norgay awards.
Commander Abhilash Tomy is representing India, sailing on a replica of Suhaili. The indigenously built sailing vessel 'Thuriya' has been built by M/s Aquarius Shipyard Ltd at Goa. The boat showcases India's boat building capability on the world forum and promotes the 'Make in India' initiative. Thuriya stands for pure consciousness and is the background that transcends the three common states of consciousness, namely waking consciousness, dreaming and dreamless sleep. The race is expected to complete at Les Sables d'Olonne in April 2019.