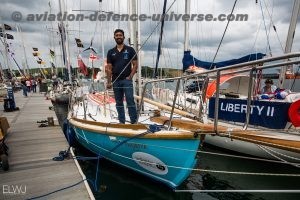 New Delhi. 30 June 2018. Cdr Abhilash Tomy is ready for his second solo circumnavigation of the globe in a non-motorised sailboat. He sailed into Les Sables d'Olonne in France a few days ago, in time for the July 1 flag-off of the 30,000-mile Golden Globe Race. There are 18 skippers at the start line and Cdr Tomy of the Indian Navy is a special invitee at the race.
The race is being held to commemorate 50 years since it was held for the first and last time, which saw Sir Robin Knox-Johnston's successfully completing the voyage in 312 days, to become the first human to finish solo, unassisted and non stop circumnavigation of the world.
The biggest challenge at the GGR is to have equipment, tools and boat which resembles the one used by Sir Johntson, despite the change in technology. Navigation will have to be done looking at celestial objects using physical maps. Communication with the outside world will also be limited as the lone satellite phone is for use in medical emergency alone. Cdr Tomy had first circumnavigated the globe in 2012-13, becoming the first Indian to achieve the feat by sailing for 151 days in INS Mhadei.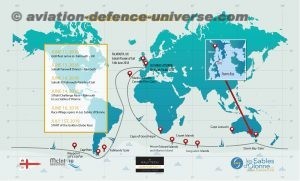 Starting from Les Sables d'Olonne, skippers will go south till Cape of Good Hope, continue sailing eastward in the southern hemisphere to pass the international dateline, and pass Cape of Horn to start sailing north in the Atlantic Ocean for the final leg. Cdr Tomy is aiming to complete the race in 311 days, one day less than Sir Johntson's timing.
He will be sailing in the 10-metre 'Thuriya', whose design is similar to Sir Johntson's boat 'Suhaili',which was incidentally manufactured in Colaba, Mumbai. "Thuriya" has been built at Goa at Ratnakar Dandekar's Aquarius Shipyard. Cdr Tomy has supplies consisting of specially-prepared food items, and fresh water in the limited space on board.
Before sailing out for   Les Sables d'Olonne, there were a series of events held in UK's Flymouth, from where the first race was flagged, where Sir Johntson was also present. In the two weeks to July 1, mandatory checks, including ones on safety, are being carried out and the sailors are getting the boat ready for the long-haul voyage.
Cdr Tomy is being supported by the Indian Navy and Aquaris Shipyard for the race, while Cdr (Retd) Dilip Donde, the first Indian to circumnavigate the world with stops, will be overseeing as the base manager.
Explaining the journey that awaits him, Cdr Abhilash said, "At the Sagarparikrama (the first circumnavigation), I had used GPS-based maps and other satellite-based technologies. But at GGR, I have to make do with a compass, printed maps, and star and planetary movements. There is a solitary HF radio set for contact. The size of the boat limits the possibility to carry water. Sir Robin had used rain water and used it, I will have to do the same. There is no help from the outside world throughout the race."