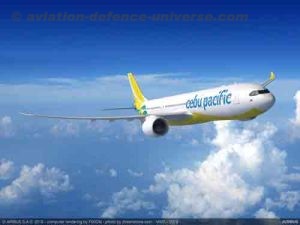 Singapore. 16 February 2022. Philippines low-cost carrier Cebu Pacific has chosen Airbus' Flight Hour Services (FHS) materials management to provide the component support for its fleet of 16 A330neos.
The comprehensive and flexible solution includes parts pooling, on-site stock at the airline's main base in Manilla, components repairs, component engineering services, as well as end-of-lease condition support. Furthermore, Airbus will guarantee spare parts availability, contributing to securing aircraft technical performance.
"We are extremely pleased to partner with Cebu Pacific in its A330neo lifecycle journey. Recognizing the need to support airlines in their recovery, Airbus offers flexibility with its innovative Flight Hour Services which allows them to minimize maintenance costs whilst maximizing aircraft availability and securing operational performance simultaneously," said Anand Stanley, President Airbus Asia-Pacific.
"This collaboration reinforces Cebu Pacific Air's position as an industry leading Airbus operator. It ensures that we are able to meet our operational and reliability targets, while we remain prudent with our expenditure," said Michael Szucs, CEB Chief Executive Adviser.
With this latest A330 Flight Hour Services selection from Cebu Pacific, Airbus becomes the leading provider for A330 by-the-hour services.