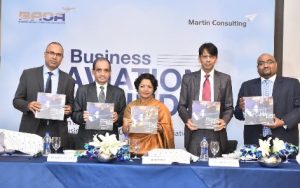 New Delhi, India, Dec. 05, 2016
Business Aviation in India continues to remain much below its potential. In sharp contrast to the growth of Scheduled Airlines, Business Aviation in India over the last 5 years charted a meagre 2% growth. Provided certain immediate and long term actions are taken, India is looking at a relatively conservative fleet growth projections of about 7% over a long period, a median between best case of 12% and as is case today of 2%, according to the first industry report release today by Business Aircraft Operators Association (BAOA) along with its knowledge partner- Martin Consulting LLC.
"The aim of the BAOA Industry Report is to present and make aware the contribution, role and strategic fulcrum, that Business Aviation has played with shaping the India of today. Business Aviation is no longer a corporate status symbol, but an imperative business tool needed by Captains of Industry and National Leaders to grow in a highly competitive global business environment" said Jayant Nadkarni, President, Business Aircraft Operators Association.
The report highlights examples of efficiencies imparted by Business Aviation, and how this sector makes the country more stable and secure, as employment and economic sustenance is provided to people through industries that are set up by businesses. It enhances economic development which goes on to benefit the common man and a resurgent India.
"What emerges from this report is a powerful message. That message is Business Aviation is the catalyst India needs to grow and attain its regional and global supremacy; and we are firm in our judgment that the challenges and hurdles this industry faces must not be overlooked as that may be construed as being restrictive and not conducive to growing India," said Mark D Martin, Founder & CEO, Martin Consulting LLC.
The New Civil Aviation Policy is a step in the right direction, which has touched upon every sector of aviation, but has clearly left out Business Aviation. This is due to the incorrect perception that the sector only benefits the affluent, who can afford the higher costs and thus can be ignored. It is not appreciated that both, Scheduled Airlines as well as Business Aviation, are integral parts of public air transportation in any nation. You cannot do without either one. Business Aviation's immense contribution to India's economic growth story remains grossly undervalued and unappreciated. Given the right impetus, the sector has the potential to create a revolution in regional connectivity and economic benefits for the country, the report concluded.