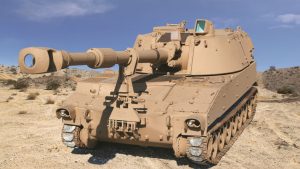 Rio de Janeiro. 03 April 2019. LAAD Defence & Security is the most important trade show for the defence and security industry in Latin America and attracts a large contingent of customers from the region and around the world. The biennial event brings together Brazilian and International companies that specialise in supplying equipment, services and technology to the Armed Forces, Police and Special Forces, Security Services, consultants and government agencies.
Latin America is an important region for BAE Systems, and Brazil continues to provide much opportunity across all sectors. Brazil, as the largest economy in LATAM, has a natural influence over the countries of the region. The country has recently hosted both the 2014 World Cup and the Olympics in 2016, and has made public its aspirations towards a permanent seat at the Security Council of the UN.
We enjoy a close relationship with the Brazilian Army on the M113 and M109 upgrade programs and will continue to build on this success for future vehicle & artillery programs. On the naval front, we have made significant progress in promoting our offer to the Brazilian Navy for its fleet modernisation programme with the successful sale of the 3 Ocean Patrol Vessels and continue to discuss further construction with the navy and industrial partners. Additionally, we have recently been successful in being selected to provide the 40mm naval gun and Artisan 3D radar. Recent success on securing the upgrade of AAV for the Marines has provided a basis for further discussions on additional upgrades and our other solutions. Our involvement in the KC 390 aircraft program has opened the door to further participation in other air programs. We are now working on IFF systems and rocket guidance systems.
The BAE Systems stand at this year's event will showcase a number of these products and capabilities with one of the upgraded M109A5+ vehicles for the Brazil Army taking pride of place. Exhibits will also be on show for the various land, maritime and Electronic Systems capabilities we are offering the region.