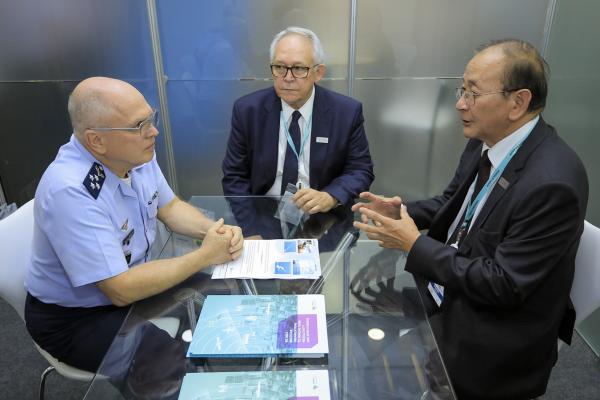 Rio de Janiero. 07 April 2019. The Aeronautics Command held more than 50 meetings during the first three days of LAAD 2019 in topics such as cooperation, study and training exchange, operational training, exchange of operational, maintenance and logistics information for the areas of military aviation and airspace control .
"LAAD is an opportunity for the FAB to present its capacity to develop and conduct high technology projects that will contribute to the increase of the defense industrial base," said Air Force Commander, Air Lieutenant-Brigadier Antonio Carlos Moretti Bermudez.
According to Colonel Aviador Helcio José Jasiocha Soares, a member of the FAB Coordination team at LAAD, the event opens up opportunities to strengthen ties between nations and mutual trust. "The visits allow information exchange. Here we are able to know new technologies, products and companies, aiming to foster trade with the various countries, "he said.
The delegates, official representatives of the FAB, also fulfilled an intense agenda with about 80 visits to national and international companies. There are eight delegates making daily visits with the purpose of knowing and mapping what each industry has to offer.
The Aeronautical General Staff (EMAER), the Department of Aerospace Science and Technology (DCTA), the General Support Command (COMGAP), the Aerospace Operations Command (COMAE), the Preparation Command (COMPREP), the Secretariat the Ministry of Economy, Finance and Administration of Aeronautics (SEFA), the General Personnel Command (COMGEP) and the Department of Airspace Control (DECEA) also held about 20 meetings with companies to update projects and understand technologies.
Among the FAB's strategic projects presented at the fair are the new F-39 Gripen combat aircraft, the new multi-mission aircraft KC-390 and the Strategic Space Systems Program (PESE). These projects incorporate the design of Dimension 22, which emphasizes the area in which the Air Force is responsible for Controlling, Defending and Integrating the country.
Source: Agencia Força Aérea, by Lieutenant CristianeEdition: Air Force Agency – Revision: Major Alle .Photos: Cape André Feitosa / CECOMSAER