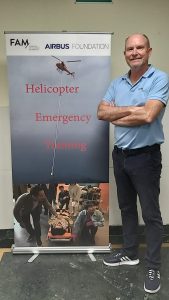 By Sangeeta Saxena
New Delhi. 05 January 2019. There was a time in India when medical evacuation by air was the privilege of the rich and famous and out of the reach of the common man. But with the bourgeoning upper middle class and a highly paid professional class, the expense of bearing a medical evacuation by air is becoming more and more affordable to a large chunk of Indians. And this is just the right time for an already strong Helicopter Emergency Medical Service to penetrate into the Indian market which is just waited to be tapped.
Ralph Setz, Senior Manager Operational Marketing at Airbus Helicopters, who is an expert in Heli-EMS and Public Service, who was recently leading the training at All India Institute of Medical Sciences (AIIMS) , New Delhi, told Aviation & Defence Universe (ADU) , " in India we don't have any HEMS of Airbus Helicopters. In India we are working on two fronts which are hospitals and regulatory bodies. We want to help these two to integrate helicopters into the health care system like it has been done in Europe. It will also mean insurance sector has to get incorporated."
With more than 40 years of experience in Emergency Medical Service (EMS), Airbus Helicopters currently offers a range of helicopters for EMS missions, with every 4th EMS helicopter being H135 followed by H145. In matured markets such as Europe and the USA, there are up to three EMS helicopters per one million inhabitants. "That means every second somewhere around the globe a person is rescued with the help of one of our helicopters. EMS crews and helicopters are in service 24/7 . Of these Airbus Helicopters reaches a market share of more than 60 percent and provides the top 10 operators in the world with the aircraft tailored to their needs. More than 300 customers are operating Airbus Helicopters rotorcraft for EMS missions."
Worldwide, there are about 2,000 helicopters deployed for EMS assignments, among them about 1,100 in North America and around 600 in Europe. Airbus Helicopters sees the worldwide EMS fleet doubling for the next 20-30 year, especially in the emerging markets.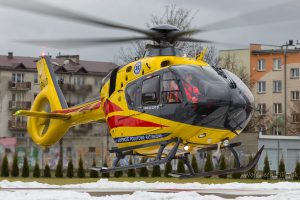 Setz explained , "HEMS is a challenging environment. You need to land anywhere for any primary mission. You learn to land on the highway, on the street, in the village. I was a HEMS pilot myself – it's a difficult job. On the other side you have the air ambulance mission, meaning transport from one hospital to the other. But at the end of the day the satisfaction of having saved lives is the most important thing."
In the Airbus Helicopters H135 and H 145 modified for HEMS there modification includes large cabins designed and certified according to medical and cleaning standards for carrying injured persons, EMS crews and equipment for immediate in-flight treatment. Sliding doors on the sides and rear clamshell doors to quickly bring patients onboard. Night vision technology allows operating safely at night. "In matured markets such as Europe and the USA, there are up to three EMS helicopters per one million inhabitants. That means every second somewhere around the globe a person is rescued with the help of one of our helicopters," he reiterated.
The availability, reliability and safety of their helicopters are fundamental to operators providing helicopter emergency services. " The most important need for HEMS is fast and efficient maintenance. Airbus Helicopters offers a range of support and services including maintenance repair and overhaul, along with training for pilots and technicians. Service contracts like the Parts-by-the-Hour package may include technical services adapted to the operator's requirements and are provided at fixed costs," he added. With the new HCare Customer Service Programme, Airbus Helicopters offers options to accompany the customers on their missions.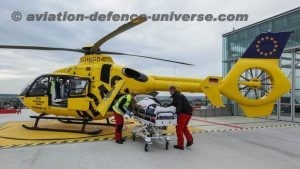 A wide range of different EMS mission equipment can be offered for the H145. It is particularly adapted to primary and secondary EMS missions. It is also an ideal platform for intensive care missions. Due to its extremely low noise level, operation over cities and landing in the hospital area is supported. With its high set main rotor and Fenestron® anti-torque easy loading and unloading of patients from side or rear of the aircraft is provided even with rotors turning.
For HEMS H145 is in compliance with EMS norm EN13718 providing efficient access to the patient's head (e.g. for emergency treatments), enough clearance between the stretcher and cabin ceiling allowing efficient access to the patient for emergency treatments such as CPR (Cardiopulmonary resuscitation), includes new innovative HEMS equipment (e.g. an easily accessible backpack holder, new stretchers etc.), is NVG certified and provides a hoist system with movable arm.
"Prospective markets for EMS helicopters are China, India, Asia-Pacific, Latin America and Eastern Europe. Japan, Australia and New Zealand, for example, have had long-established helicopter emergency services, while China and India are just starting to build their EMS operations and networks," Setz informed.
China has gone just a little ahead . The H135 have been delivered in HEMS configuration, fully equipped with the latest medical interior, and are performing EMS missions in Qingdao and the surrounding area.
The H135 is a helicopter of reference for air ambulance operators worldwide. It combines a wide, unobstructed cabin with excellent performance, range and payload capacity – along with low-noise operations. The oversized sliding side doors and rear clamshell doors enable fast loading/unloading of patients, with additional safety during ground operations provided by Airbus' signature shrouded Fenestron tail rotor.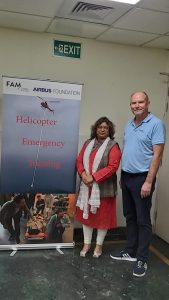 "For HEMS a very powerful helicopter is needed. You want to have the capability of the space together with the comfort. When you transport your patient, when you have your doctors working on your patient, you want to have a low-vibration and low-noise environment. The altitude of the helicopter must be smooth and, of course, you want to have a helicopter that is available. The helicopter is often alone at the hospital, so you must have high availability – the reliability must be there. Airbus Helicopters' H135 and H145 are the best when it comes to meet all these needs. " Ralph stated confidently.
When asked to sum up the need of HEMS in India he concluded, "we are hoping Indian hospitals, government both centre and states, military, para-military, energy and oil sectors all understand the need for HEMS and we are always there to help them fulfil this need."