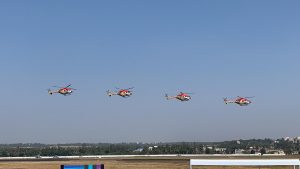 World's First Hybrid exhibition
By Surabhi Rao
New Delhi. 02 February 2021. The world is moving ahead fast and thick. Every inch of the space is conquered by human beings. Air is no exception. Mankind has explored all possible ways of using air for commutation. The air space is not only extensively used both by civil or commercial, but also for military purposes. In an era of propaganda and new inventions, this sector needs showcasing. Air shows offers a glimpse into this world.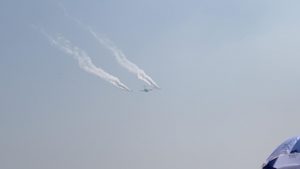 Aero India is no exception to this. The 13th edition will kick-start on 3rd February 2021 a few hours from now and will enthrall till 5th February 2021 at the Yelahanka Air Force Station in Bengaluru. The Aero show has growing popularity even in these times of Covid-19. The craze among the public to witness the event is evident by the fact that the Ministry of Defence has removed the Rs.1000 fee to watch the show virtually and is allowing the public to watch the show for free virtually after registering on the portal. The virtual attendee will have the opportunity to experience the same as someone present in the show.
The Aero show will showcase 601 exhibitors from 15 countries across the globe. 14 foreign countries will be at the Aero Show. There will be 171 virtual exhibitors present. The exhibitors also get to interact with the virtual visitor.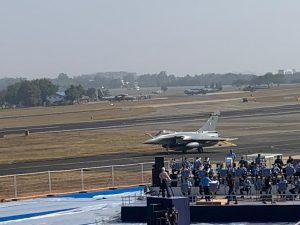 5 flying displays have been scheduled over three days. One of the highlights of this display will be HAL's one of a kind flying display titled "Aatmanirbhar Formation Flying" comprising of LCA Trainer, Advanced Hawk 132, HTT-40, IJT, Civil Do-228. The Advanced Light Helicopter (ALH) Dhruv, Light Combat Helicopter (LCH), Light Utility Helicopter (LUH) and Sukhoi 30 MKI will be a part of the flying display. Along with these, there will be a combined display of the Surya Kiran and Sarang acrobatic teams, Rafale, Hawk, Tejas, C-17 Globemaster and a fly-by by the American B-1B Lancer heavy Bomber.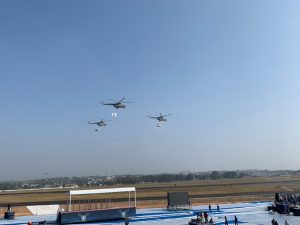 On static display, HAL's Do-228, Hindustan Turbo Trainer (HTT)-40, Light Utility Helicopter (LUH) and ALH Mk III, Light Combat Helicopter (LCH), ALH Mk IV Rudra can be seen along with Lockheed Martin's main attraction F-21 Fighter and MH-60R 'Romeo' SEAHAWK. C-130J Super Hercules Airlifter and Vintage aircraft Dakota will also be on display.
India's quest to achieve a definite standard military might and the increased budgetary allocation in its defence production department coupled with 'Aatmanirbhar' and 'Make in India' will result in the show becoming a success story. More is likely to happen in the days to come.