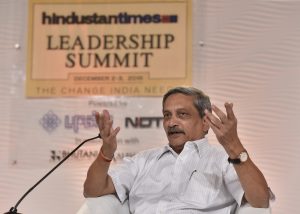 New Delhi. 02December, 2016. Manohar Parrikar speaking at the Hindustan Times Leadership Summit said that his biggest challenge in his tenure has been to make the people understand his domain of work. "The common notion is that the domain of work only covers the border security, cantonments and procurements whereas it spreads across several other duties. The ministry is doing justice to the job at hand and one change he has managed is to make a lot of people in the defense acquisition department to think out of the box."
Some takeaways from his speech
Surgical strikes have introduced a sense of uncertainty in the adversary's mind.
Surgical strikes have brought a sense of satisfaction to the people at large and has boosted their confidence.
 India has successfully negated the adversary's notion that India would not hit back irrespective of multiple attacks.
Army is identifying sensitive areas and categorizing them with respect to the degree of sensitivity.
The DRDO has been given the responsibility to identify the technology that would be required to establish a line of defense in these areas.
 India's military budget to be 3% of India's GDP but it can't happen overnight.
All the costs of acquisition in the defence ministry are coming down compared to previous government.
On being asked about more surgical strikes in near future, he said, "Principle of uncertainty should be allowed to be in play."