Anand Swaroop, IG ITBP visited the ventilator wards and reviewed the arrangements at the centre with the officials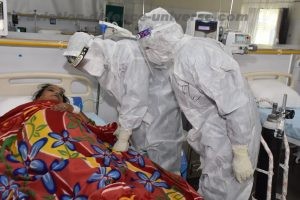 New Delhi. 21 May 2021. SPCCC continues to serve the patients who need oxygen support, and has proved to be one of the best camp hospitals in the national capital. This confidence at the centre has further added to the faith of the government and today 150 GPS enabled/ based ventilator beds provided from the PM Cares Trust Fund have been made functional here. This will be in addition to the 500 oxygen beds which are already functional at the centre. The ventilators will be used for providing critical care to the Covid19 patients. 
The centre is serving as an important centre with the support of Indo-Tibetan Border Police (ITBP) and Delhi Government and is providing much needed medical care to patients who need oxygen support. The Ministry of Home Affairs (MHA) had mandated the Force to provide the Doctors and paramedical staff for the SPCCC, Radha Soami Beas, Chhatarpur, New Delhi.
Started functioning on 26 April, 2021, the centre, till 19 May, 2021, admitted a total of 1223 patients out of which 935 were discharged. At present, 200 beds are occupied at the centre. Hundreds of patients who were critical have been given anti viral treatment here and their oxygen levels have been becoming better and better. Walk-in admissions are open here for any Covid19 patients needing oxygen support.
Adequate oxygen supply and medicines are being provided by the Delhi District Administration to the centre for the admitted patients. The centre has been keeping a good track record of treating the patients. There are instances when many patients whose oxygen levels were as low as even 60 were provided much needed care and many of them have improved to the level of 80s and 90s and finally discharged from the centre as recovered patients.
The centre has been excellently managing its covid wards. Hygiene and sanitation, food etc including services of stress counselors of ITBP are being provided to the people inside the centre. Daily Yoga and Meditation sessions are also organized at the facility. Both male and female wards are created where patients are being attended 24×7.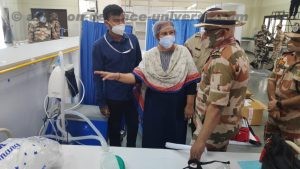 All arrangements inside are free of cost.
Senior ITBP officials regularly visit the wards of the centre to meet with the patients and take their feedback.
During the first wave of the pandemic from July 2020 to February 2021, the ITBP had successfully established the world's largest 10,000 bedded Sardar Patel Covid Care Centre and Hospital at this centre where it had treated more than 12,000 patients.