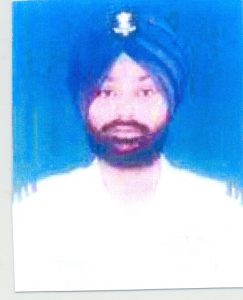 New Delhi. In the wee hours of 18 May 16, Indian Air Force received a frantic call from Sri Mata Vaishno Devi Shrine Board informing a forest fire raging on Trikuta hill which was fast approaching the shrine. Squadron Leader SS Multani (Now Wing Commander) was immediately tasked for dousing the fire by the use of Bambi bucket. He immediately swung into action and got airborne for the site.
By then, the fire had turned into an inferno and was only 100m from the main walkway to the shrine, endangering the lives of thousands of pilgrims. The fire was spotted on a steep slope surrounded by tall trees making it inaccessible to the fire fighters on ground. Realising the time criticality, with his experience and awareness of the area, he identified the reservoir of SalalDam at Riasi as a potential source for filling up water. Reduced visibility due to smoke, excessive turbulence and limited turn radius reduced any margin of error as the aircraft had to be operated at its maximum capacity.
The alignment of the fire line required the water drop to be carried out in a direction facing into the hill, making it dangerously difficult unlike other fire fighting operations. With the Bambi bucket under slung at 30 m below theaircraft, the terrain clearance was marginal. The complexity of the mission required courage and skillful handling of the helicopter maintaining a high degree of situational awareness.
During the process of dousing the fire the bunch cable holding the Bambi bucket had entangled, thereby making it impossible to fill up the water. Returning to base for rectification would have caused loss of precious time thereby, allowing the fire to spread putting in danger lives of thousands of pilgrims. Sqn Ldr Multani located a restricted but clear patch next to the reservoir and with no assistance available on ground to secure the Bambi, he deftly manoeuvered the aircraft to land safely. Having removed the entanglement personally, he resumed the fire fighting operations with courage and commitment. Accurate and relentless operations were able to douse the fire, preventing a major catastrophe in the Trikuta hills.
For this act of exceptional courage in saving precious lives, Wing Commander Sukhwinder Singh Multani has been awarded Vayu Sena Medal for Gallantry.