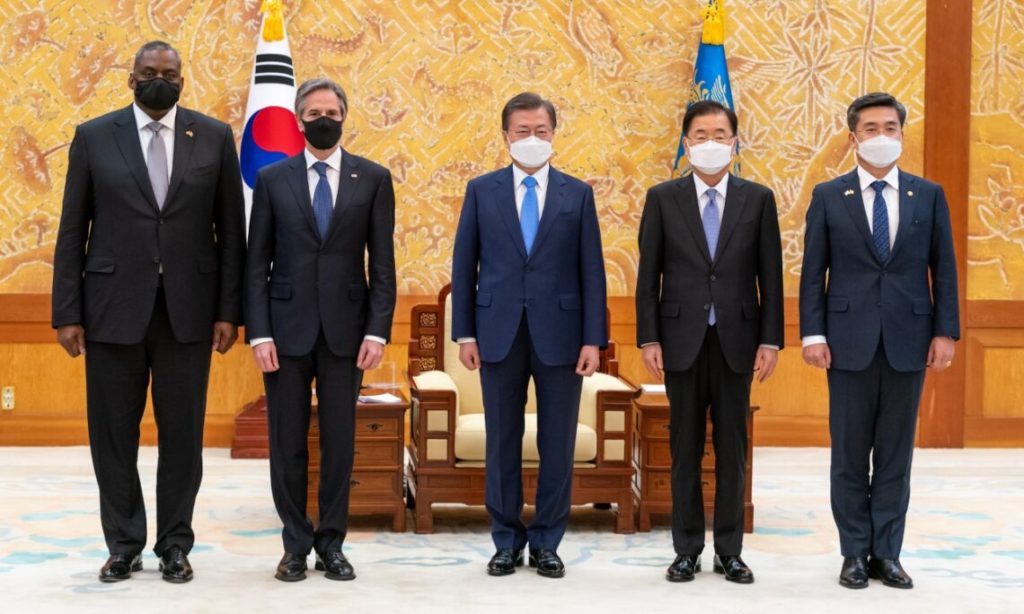 North Korea warns it will be hard to see spring again
China reiterates friendship with DPRK
By Sangeeta Saxena
New Delhi. 25 March 2021. Peace, commerce and honest friendship with all nations; entangling alliances with none – when Thomas Jefferson said this little did he know that 200 years after him, his nation would be the leader of the world and whether desire or no desire, entangled alliances would be the order of the day and military commitments in far away lands become the symbols of geopolitical supremacy and oneupmanship.
US-South Korea is an alliance which started as a necessity for both and has now become indispensable. More so for South Korea as its neighbour created at the time of it's birth North Korea, is the biggest dictatorship post Hitler's Germany and the genesis is based on hatred of partition. Doesn't the story sound familiar? Knowing that a sheep can befriend a hungry wolf only briefly, South Korea took the path of befriending a stronger nation to keep it's overbearing neighbour at bay . And thus started the tale of two Koreas , China and USA.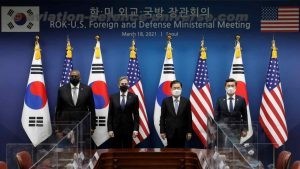 Joe Biden after taking over the reins of US sent his most trusted lieutenants the Secretaries of State and Defense for the 2+2 dialogue with all whether ally South Korea. Republic of Korea (ROK) Minister of Foreign Affairs Chung Eui-yong and Minister of National Defense Suh Wook hosted a Joint Foreign and Defense Ministerial meeting with American Secretary of State Antony J. Blinken and Secretary of Defense Lloyd J. Austin III in Seoul on March 18, 2021.
Together they agreed in principle on a new multi-year Special Measures Agreement which is a symbol of the shared commitment to the ROK-U.S. Alliance, supports the stable presence of U.S. forces stationed in Korea, and enhances their combined defense posture.
The Ministers and Secretaries noted that the ROK and the United States have achieved great progress through their combined efforts and reiterated their firm commitment to wartime OPCON transition consistent with the Conditions-Based OPCON Transition Plan (COT-P). They stated that North Korean nuclear and ballistic missile issues are a priority for the Alliance, and reaffirmed a shared commitment to address and resolve these issues. They affirmed the importance of full implementation of relevant UN Security Council resolutions by the international community, including North Korea. The ROK and the United States are closely coordinating on all issues related to the Korean Peninsula. Both sides shared the view that these issues should be addressed through a fully-coordinated common strategy toward North Korea between the ROK and the United States. To this end, they committed to maintain high-level consultations on the United States' ongoing North Korea policy review.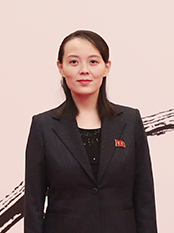 And this was after the North Korean leader Kim Un Jong's sister Kim Yo Jong, vice department director of the Central Committee of the Workers' Party of Korea (WPK) warned US, "We take this opportunity to warn the new U.S. administration trying hard to give off powder smell in our land. If it wants to sleep in peace for coming four years, it had better refrain from causing a stink at its first step. Whatever and however the South Korean authorities may do in the future under their master's instructions, those warm spring days three years ago, which they desire so much, won't come easily again."
The Ministers and Secretaries also affirmed the importance of ROK-U.S.-Japan trilateral cooperation and pledged to continue promoting mutually-beneficial, forward looking cooperation to promote peace, security, and prosperity in the region.
Lloyd J. Austin III and Suh Wook both committed to prioritize readiness and maintain a robust defense posture to ensure that the Alliance is ready to "fight tonight." Austin noted that the U.S. security commitment to the ROK remains ironclad, including the U.S. extended deterrent underpinned by the full-range of U.S. capabilities. Both leaders reiterated a commitment to supporting diplomatic efforts to achieve the denuclearization of North Korea consistent with United Nations Security Council Resolutions.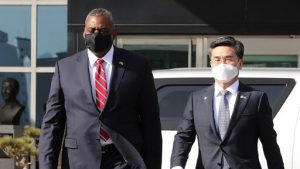 Both sides committed to strengthening the Alliance deterrence posture, and they reiterated the importance of maintaining joint readiness against all shared threats to the Alliance through combined training and exercises. They noted that U.S. forces in the ROK continue to play a critical role in maintaining peace and stability on the Korean Peninsula and in the region, and committed to continuing to ensure that they have the force posture and capabilities necessary to meet their common challenges.
Kim Yu Jong had strongly retaliated to the early March South Korean war drills. "War drill and hostility can never go with dialogue and cooperation. Given the current situation that the South Korean authorities persist in hostile acts of denying dialogue and completely destroy the foundation of trust through ceaseless war games, we cannot but put on the agenda the issue of the Committee for the Peaceful Reunification of the Country, an organization for dialogue with the south which has no reason for its existence."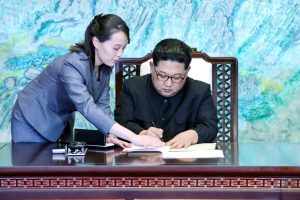 "They staged 110 big or small war drills in 2018, more than 190 in 2019 and over 170 in 2020 for so-and-so reasons in breach of their promise to halt such drills. We have long been aware of it and are ready to make them pay dearly for it at an appropriate time. They might know better than anyone else about what impact such continued north-targeted war drumbeats would have on the north-south relations. We have stressed it several times and offered ample opportunity to them, exercising patience. Nevertheless, they opted for "war in March" and "crisis in March" again under the eyes of all Koreans, instead of "warmth in March". They are about to bring a biting wind, not warm wind expected by all, in the spring days of March," Kim Yo Jong exhorted.
This trip by the American leaders to South Korea will put both on firmer footing to address a series of shared security challenges in the region and beyond, including the threat posed by North Korea. President Biden plans to complete a North Korea policy review in the weeks ahead in close coordination and consultation with the Republic of Korea, with Japan, with other key partners, including reviewing pressure options and potential for future diplomacy.
"But as we conveyed to the foreign minister and the defense minister, the goals of this policy are clear: We are committed to the denuclearization of North Korea, reducing the broader threat the DPRK poses to the United States and our allies, and improving the lives of all Koreans, including the people of North Korea who continue to suffer widespread and systematic abuses at the hands of their repressive government," said US Secretary of State.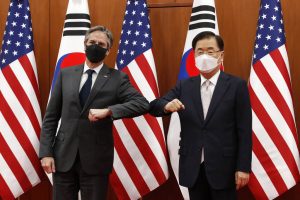 "We also discussed China. We are clear-eyed about Beijing's consistent failure to uphold its commitments and we spoke about how Beijing's aggressive and authoritarian behavior are challenging the stability, security, and prosperity of the Indo-Pacific region. Beijing's actions make forging a common approach among our allies all the more important at a time when we're seeing a rollback of democracy and human rights around the world, including in Burma, where the military is attempting to overturn the results of the democratic election by brutally repressing peaceful protesters," Blinken added.
Secretary Antony J. Blinken and Secretary of Defense Lloyd Austin also met Republic of Korea President Moon Jae. He welcomed the two American emissaries by saying, "We welcome America's return, the return of diplomacy and revitalization of alliances with the launch of the Biden administration. As a 70-year partner to the United States this year, core values and basic ideals such as democracy and human rights, Korea is ready to work with the U.S. to meet common challenges. In particular, we will continue to coordinate closely with no delay between us for complete denuclearization of and establishing lasting peace on the Korean Peninsula. A 2+2 ministerial meeting took place for the first time in five years." Former US President Donald trump ad his South Korean policy looks like being questioned.
And as the Secretary of State was in Seoul Choe Son Hui, first vice minister of Foreign Affairs of the Democratic People's Republic of Korea (DPRK) stated," The U.S. military keeps stealthily putting military threat to us and is committing spying acts against us with the involvement of lots of reconnaissance assets. It also openly started aggression-minded joint military exercises targeting us, defying concern and opposition by the public at home and abroad. We will keep tabs on all the ill deeds the new regime in the U.S. is engrossed in.It had better drop the cheap trick by which it tries to use the DPRK-U.S. contact as a means for gaining time and building up the public opinion.It will only be a waste of time to sit with the U.S. as it is not ready to feel and accept new change and new times.We make it clear that we won't give it such opportunities as in Singapore and Hanoi again."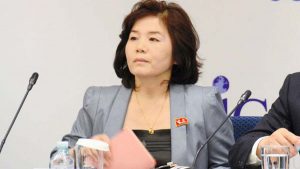 She strongly added, " We will readily react to the sanctions leverage which the U.S. is so much fond of. It had better contemplate what we can do in the face of its continued hostile policy toward us. We already clarified that we will counter the U.S. on the principle of power for power and goodwill for goodwill."
South Korean Foreign Minister Chung said, "It seems North Korea is reviewing its policy toward the U.S., and it seems that North Korea is closely monitoring the dialogue between ROK and U.S. regarding North Korea policy. I believe it's their own way of sending messages to us and the U.S. Today, we briefly discussed on this issue. Now we will continue to closely coordinate on this issue with the U.S., and I support the Biden administration's efforts to engage North Korea, and hope that the talks will be resumed."
Secretary Blinken also stated, "China has a critical role to play in working to convince North Korea to pursue denuclearization. China has a unique relationship with North Korea. Virtually all of North Korea's economic relationships, its trade go – are with or go through China, so it has tremendous influence. And I think it has a shared interest in making sure that we do something about North Korea's nuclear program and about the increasingly dangerous ballistic missile program. So I would hope that whatever happens going forward, China will use that influence effectively to work on moving North Korea to denuclearization."
This trip by US leaders to the volatile Korean peninsula ensured that it's commitment to the defense of the ROK remains ironclad. The Alliance will continue to work toward it's shared goals of securing peace, stability, and prosperity on the Korean Peninsula and throughout the Indo-Pacific, concluded the two nations.
But it would be surprising if China refrained from reaction on this much talked about visit. Chinese Ministry of Foreign Affairs official spokesperson Zhao Lijian in his routine press conference stated, " China holds that the hard-won situation of dialogue and detente on the Korean Peninsula in recent years should be cherished. Relevant parties need to meet each other half-way, commit themselves to managing differences, work actively for dialogue and engagement and safeguard regional peace and stability. Following the dual-track approach in advancing political settlement of the issue is in the interest of all parties. China will continue to play a constructive role in this regard." This was too tame a statement China watchers will agree.
The other official spokesperson Hua Chunying stated, " China and the DPRK are friendly neighbours linked by mountains and rivers. It is an unswerving policy of the Party and the Chinese government to maintain, consolidate and develop China-DPRK relations. China is ready to work with the DPRK to implement the important consensus reached by the top leaders of the two parties and countries and work for new progress in bilateral relations. China always believes that wilful sanctions and pressure will not solve any problem. China has repeatedly called on the Security Council to activate the DPRK-related resolution provisions on modifying sanctions as soon as possible in light of the developments of the situation on the Korean Peninsula and make necessary adjustments to the sanctions measures, especially those concerning people's livelihood. This is in line with the spirit of the resolutions, will help ease the humanitarian situation and people's livelihood in the DPRK, and create conditions for and inject impetus into the political settlement of the Korean Peninsula issue." Friends forever with common enemies are China and North Korea. And no report on Korean peninsula can be complete without big brother China's point of view.