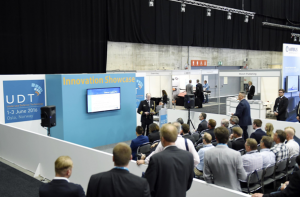 Bremen,Germany.26May2017. Undersea Defence Technology (UDT), dedicated to gathering the world's leading experts in the industry, military and academia in order to further research and development in undersea defence, welcomes exhibitors, speakers and visitors alike to the most prominent conference and exhibition in the field, held at the Messe Bremen & ÖVB-Arena, in Bremen, Germany from 30th May to 1st June.
Now reaching its 30th active year, UDT combines supply, information and technological advancement in order to promote the expansion of the borders of science and push for progress through the global community's strive for knowledge and safety in even the most difficult of terrains and environments. The ultimate goal of bringing professionals together and pooling their strengths is to encourage ingenuity by creating a space for sharing your insights [where] you will in turn develop new ideas and new approaches to exploit the opportunities that our world of technological and geopolitical change will undoubtedly afford.
The Undersea Defence Technology (UDT) Conference 2017, themed 'Optimising the constants by maximising the variables', will be aimed at revealing how the hazardous constants of the oceans can be turned into favourable winds. This year the expected attendance already stretches to over 1300 visitors, 45 VIPS, and over 90 exhibiting companies, whereby 40 different countries are to be represented.