By Suresh Somu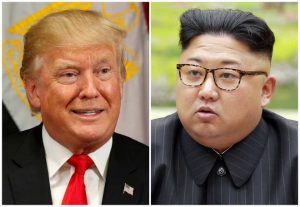 Bangkok. 12 February 2019. On the eve of the upcoming second US-North Korea meeting, President Donald Trump has fired a very positive salvo. He says North Korea, under the leadership of Kim Jong Un, can be a "different kind of rocket – an economic one".
Giving details of recent pre-Vietnam meeting talks, Trump said his representatives had just left North Korea after a "productive meeting" about the February 27-28 summit which he revealed would held in Hanoi, Vietnam.
"I look forward to seeing Chairman Kim & advancing the cause of peace!" he tweeted. "North Korea, under the leadership of Kim Jong-un, will become a great economic powerhouse. He may surprise some but he won't surprise me, because I have gotten to know him and fully understand how capable he is."
Ironically, the US President also appeared to reference his previous mocking of Kim as the "Little Rocket Man".
POSITIVE PRE-VIETNAM TALKS
Stephen Biegun, the US special representative for North Korea, held three days of talks in Pyongyang to prepare for the coming summit, the US State Department said. In their talks from Wednesday to Friday, Biegun and Kim "discussed advancing President Trump and Chairman Kim's Singapore summit commitments of complete denuclearisation, transforming US-DPRK relations, and building a lasting peace on the Korean Peninsula," the State Department said.
Its statement, which referred to North Korea by the initialism for its official name, the Democratic People's Republic of Korea, gave no indication of any progress in the talks. Just weeks ahead of the planned summit, the two sides have appeared far from narrowing differences over US demands for North Korea to give up a nuclear weapons program that threatens the United States.
Biegun said last week his Pyongyang talks would be aimed at seeking progress on commitments made in Singapore last year and mapping out "a set of concrete deliverables" for the second summit. He said Washington was willing to discuss "many actions" to improve ties and entice Pyongyang to give up its nuclear weapons and that Trump was ready to end the 1950-53 Korean War, which concluded with an armistice, not a peace treaty.
He also said his talks in North Korea had been productive, but admitted more "hard work" was required before the summit.
THE SINGAPORE SUMMIT
The first 2018 North Korea-United States Singapore Summit on June 12 June 2018 took the world by surprise. Joint statements, agreeing to security guarantees for North Korea, new peaceful relations, the denuclearisation of the Korean Peninsula, recovery of soldiers' remains, and follow-up negotiations between high-level officials were made.
Buoyed by the Singapore Summit shot-in-the-arm, Kim opined that he was ready to meet Trump again anytime to achieve their common goal of denuclearising the Korean Peninsula. While his willingness to compromise with Trump and gain greater access to foreign capital attest his commitment, he also warned he may have to take an alternative path if US sanctions and pressure against the country continued.
Following which, Kim visited China President Xi Jinping. And it's notable that he visited China three times last year but never met Xi for the first six years of his leadership of North Korea. And South Korean news agency Yonhap reports, citing unnamed sources, saying the pair discussed the possible US-North Korea summit.
ADJUSTING EXPECTATIONS
"Kim is eager to remind the Trump administration that he does have diplomatic and economic options besides what Washington and Seoul can offer," Harry J Kazianis, director of defence studies at the Centre for the National Interest, told Reuters news agency. Melissa Hanham, a North Korea expert stated the US has to start adjusting its expectations and to listen more to what North Korea wants.
The choice of Vietnam is a significant political and geographical milestone, too.
Vietnam is the perfect example of a country which has employed capitalist practices under a Communist leadership, and achieved fast-growing economic progress. So perhaps it's the most subtle way to further expand the horizons of Kim as Vietnam is seen as a model of economic and political reform for North Korea to follow. That is in line with his quest to bring economic growth to North Korea.
And notwithstanding that the once soured relationship between Vietnam and US has now soared coupled with trade agreements and outstanding diplomatic ties. The South Korean presidential spokesman Kim Eui-kyeom said that Vietnam was the best choice of host for the next summit because it and America used to "point a gun and knife at each other", Reuters news agency reports.
In essence, the post-war trajectory of relations between America and Vietnam was, the official added, a hopeful model for potential warmer relations between the US and North Korea.
Vietnam, too, gains from hosting such high level summits apart from generating significant coverage. CSIS senior associate Murray Hiebert told AP that in light of Vietnam's on going rivalry with China in the South China Sea, hosting a high-profile summit like this would help Hanoi hedge against Beijing.
Likewise for the US, selecting Vietnam gives it a dual track approach, say observers, as Washington could signal to Beijing that North Korea is "not in your hands", and that they have a counterbalance to Chinese influence in the region.
Now we wait with bated breath to the start of the Vietnam Summit later this month. And the real possibility, as President Trump asserts, that North Korea has the longer-term potential to be a "different kind of rocket – an economic one".