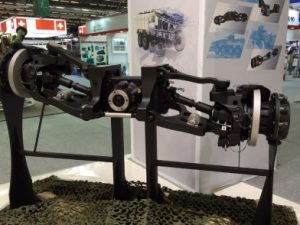 Paris.  13 June 2016. Timoney and Texelis launched a new lightweight 4 x 4 independent suspension axle system.
The axle system has been designed to meet market demand for a robust, lightweight solution for military and heavy commercial 4 x 4 vehicles with a maximum width of 2.5 metres. The configuration incorporates Texelis's existing proven wheel-end and differential components with a new suspension design based on Timoney's proven double wishbone concept to provide a fully integrated solution.
"We approached the design of the T700 from a modular perspective utilising existing components and sub-assemblies wherever possible," said Jean Vandel, Texelis Business Development Director.  "A key objective was to ensure we designed the T700 to be adaptable for a broad range of both military and commercial users," he added.
The double wishbone independent suspension system has been optimised for ride and handling performance and leverages the Timoney engineering team's many years of experience in this field.
"Working with Texelis to develop the T700 typifies our approach and also our commitment to technology creation for technology transfer in order to take our solutions to the broader market through strategic partnerships" said Simon Wilkins, Timoney's Business Development Director. "The T700 introduction represents the latest step in our continuing efforts to address market demand for independent suspension solutions for heavy off-highway vehicles spanning from Timoney's pioneering of this technology in the 1970s".
The T700 can be used on both monocoque and chassis system-based vehicles.  It has been designed to work with all-wheel steer systems, air and hydraulic brakes and is ready to be used with both ABS braking and central tyre inflations systems (CTIS).
The overall design is extremely compact to ensure maximum ground clearance and vehicle design flexibility.