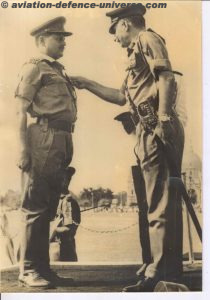 By Lt. Gen SS Hasabnis (Retd.)
Pune. 20 October 2022. 60 years ago on this day our respected father, with his ill equipped band of 60 (20 without weapon), took on the might of extremely well equipped hundreds of Chinese soldiers who had fully encircled his post at Galwan.
An alumnus of the First course of the prestigious National Defence Academy and later Defence Services Staff College he served in the Army for 25 illustrious years. 5 Jat Battalion was the first plains troops unit to be inducted in Ladakh, in early 1962, to relieve the exclusively hills troops units then deployed in our super high altitude northern borders. He was named by his Commanding Officer to take his Company to Galwan.
His first task was to convert the fiercely vegetarian Jat troops to be prepared to eat tinned non vegetarian meals, as it was not going to be possible to cook vegetarian meals at the remote posts in Ladakh which were above 17000 feet. This he achieved leading by example, as was his style throughout his life.
His Company with a reduced strength of 60 started to be inducted into Galwan by helicopters. The state of arms with the troops was pitiful, nearly 20 of his men did not even have weapons. They did not have appropriate clothing for survival in these extremely cold conditions. Ammunition with them was just adequate to last a few minutes of battle, a fight that they were repeatedly assured was not going to happen.
The Chinese were using their Hindi translators to tell the troops who were at places within a few meters of the Chinese to go back, as they were not against the hapless troops but the bourgeois Indian Government.
As the troops landed they saw that the post was surrounded from all sides by hundreds of Chinese soldiers. The Chinese had the latest rifles, mortars and artillery which they were deliberately putting up in the show window for the troops to see and therby demoralise them.
The men saw this and told Maj Hasabnis, Chota Saab as would all fondly address him, that they were there like goats in a slaughterhouse. However none of them ever showed any desire to abandon post or go back because they were prepared to face anything as long as he was with them. When asked before the induction to Galwan every last man in the Company had volunteered, fully knowing that the odds of returning alive were off. This was the level of trust and faith he inspired in his men.
On 20 Oct 1962, early morning without any warning the post was shelled by artillery, mortars and heavy automatic weapons fire. The troops fiercely fought till literally their last round. 30 made the supreme sacrifice while the rest including our father were taken prisoners. On repatriation, 7 months later, as a Major, superseding many other senior officers available, he raised 16 Jat battalion. Later in 1971 war of liberation of Bangladesh, now Commanding 6 Jat battalion, once again he led his troops from the front.
Anyone who knew him loved him, revered him, looked up to him. He was an inspiring beacon of hope for those that he touched. Loved, feared and respected as a professional by his Armymen, to date, 45 years after leaving the army, he is remembered as an upright, physically tough gentleman.
We as Army men salute the gallant soldier. We are proud that our troops have always maintained their preparedness to make the supreme sacrifice for the Nation as they showed on 15 Jun 2020 also.
Wonder how many of us realise the importance of Galwan to the Chinese. The clash of June 2020 was eulogised by the Communist Party of China during their 5 Yearly 20th National Congress.
(The author is former Deputy Chief of Army Staff (P&S) Indian Army )