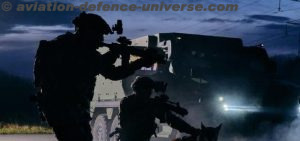 Paris. 13 June 2022. Co-designed with end users and experts, Thales is launching the next-generation tactical training and shooting analysis at Eurosatory, an innovative solution that brings unrivalled added value to instructors and trainees, guarantees the safety of the training sessions and improves efficiency and generates significant cost savings.
In the context of unstable international environment, Law Enforcement Agencies and Special Forces need to intensify the training of their teams, on weapons handling, on how to operate collaboratively and perform tactical missions and, maintain skills over time. Today, training is carried out in shooting ranges with live ammunitions over a limited number of sessions per year.
Thales solution is a portable analysis and debriefing tool, which records events and parameters, including shots, weapon data, videos and positions, which occur during the training session. Thanks to Artificial Intelligence (AI) optimized low latency algorithms, the analysis aid generates indicators, scorecards and qualitative reports in real time. Thus, the instructor benefits from an objective data collection per trainee and is able to perform a precise behaviour and group interaction analysis, at a level never achieved before.
Thales scalable analysis aid fits training needs from self-paced individual training to large group analysis; it works with all types of firearms and ammunitions.
"With the Tactical Engagement Analysis solution, you can easily multiply the number of training sessions because you can train whenever you want, wherever you are, as often you like, in every condition for better trained forces, improved security, at lower cost." Marco Zender, Product Line Manager, Training & Simulation, Thales.