Paris. 21 June 2022. The joint directors and services are anchored at the heart of the operational vocation of the armies. There is no credible, balanced and coherent capability model, nor strategic autonomy, without robust and quality supports, properly resourced.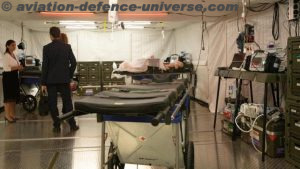 The Armed Forces Health Service (SSA) constantly strives to adapt to maneuvers and in particular to small and very mobile deployments: it carries out life-saving actions as closely as possible to combatants. The resuscitation and rescue surgery antenna (ARCS), implemented by the SSA, constitutes the most advanced element. It allows a surgical gesture in the medical support of current operations. Its light version, the rescue surgery antenna, is presented at the show. "She is currently deployed in the Sahel. It is a very light structure of five tones in addition to being stronger. It can accommodate 12 soldiers, including three surgeons for each part of the body ., says chief pharmacist Jérôme, head of the international medical cooperation office at the SSA.
On its stand, the SSA also offers visitors the opportunity to discover a demonstrator of modular medical shelters. It retains rusticity and agility thanks to a limited logistical footprint based on the modularity and simplicity of the structures. "It's still a prototype, designed as part of the Scorpion program. We wanted to show that there are other solutions for medical support, including ballistic protection of equipment. The objective is also to limit congestion as much as possible," assured chief pharmacist Jérôme. Whether upstream, during or downstream of an operation, the SSA constantly supports the forces. "The health of the soldiers is our priority. We have a supporting role", says the head of the international medical cooperation office at the SSA. In a desire to train the armies in collaborative combat, the SSA fully finds its place there: "In the event of injuries, information concerning them can be transferred more quickly to the doctor. This will allow us to save time for his care".
If the SSA is an essential support to the forces, the Operational Energy Service (SEO) also represents a sizeable support since it guarantees the autonomy of the armies. The SEO supplies fuels, ingredients and various products to the French forces in operations. "We are always by their side, no matter the environment. This service is recognized for its efficiency and adaptability", indicates the sergeant Adam, workshop store manager at the SEO. Its commitment as close as possible to the forces led it to take into account the protection of its personnel in an exposed context. The 10 m3 tanker truck with a protected cabin (C3P10) presented at the Eurosatory exhibition, ensures the protection of crews thanks to the ability to protect personnel by armored cabin while being able to simultaneously refuel four aircraft. "Armoring vehicles had become essential. It can happen that vehicles run over enemy mines , confides the sergeant Adam. The primary objective is to protect humans. »