By Ashish Saraf, VP & Country Director – India, Thales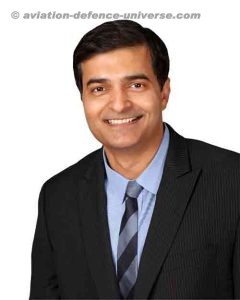 New Delhi. 05 October 2021. Research and innovation are now at the economic centre of India's growth story. There have been collective efforts from the government, armed forces, industries, and academia to stimulate the advancement of technological innovation in the country. The government's allocation of Rs. 500 crore to push research and innovation in aerospace and defence by supporting 300 start-ups is one of the latest examples of these efforts. As rightly said by Shri Rajnath Singh, the honourable Defence Minister, India can become an economic superpower if it achieves advancement in enabling technology.
Keeping innovation at the helm of its operations, Thales has been a steadfast partner of India for close to seven decades now. Through a diverse mix of high-technology solutions, services and collaborations, the organisation has brought its global expertise in defence, digital identity and security, aerospace, space, and transportation to India. With 1,800 employees working with Thales and its joint ventures in India, the organisation is looking to strengthen its presence in the country and has plans to hire at least 300 more this year for high technology roles.
'Aatmanirbhar Bharat Abhiyaan': an opportunity for growth
The vision of Aatmanirbhar Bharat has marked a series of initiatives which aim to achieve more indigenisation and self-reliance in India. The progressive steps to provide priority to indigenously designed and developed defence products mark a shift towards self-reliance in true essence of building an "Aatmanirbhar Bharat".
Thales, standing together with India at every step of the way
Thales has contributed in providing teeth to Rafale's game-changing weapons through a range of solutions such as the AESA RBE2 radar, the SPECTRA electronic warfare suite for 360° detection and action modes, advanced man-machine interface with displays in cockpit, missile electronics, the front-sector optronic with infrared search and track systems FSO-IRST, the CNI suite (communication, navigation, identification) as well as power generation systems and a logistics support component.
Thales is also proud of the upgradation of the Mirage 2000 fleet of the Indian Air Force. Apart from this, the company also offers a host of systems for India's armed forces ranging from night vision devices and carbines to unguided rockets for attack helicopters.
Nurturing local industrial and supplier partnerships to support India's defence and aerospace needs, Thales has more than 50 offset partners and more than 75 supply chain partners. Exemplifying the spirit of "Make in India", Thales has also formed joint ventures in India – formed a JV with Reliance Aerostructures in 2017 and with Bharat Electronics Ltd. (BEL) in 2014, among others. Through these JVs, Thales has built comprehensive skillsets in India to contribute towards sustainable manufacturing in India for India as well as in India for the world focused on exports.
The future is digital and unmanned systems
With the future seen belonging to digital technologies, UAV and CUAV solutions, Thales identified the trends early and invested more than 7 billion euros globally in technologies such as connectivity, big data, artificial intelligence, cybersecurity and quantum computing amongst others. Research and Development (R&D) and innovation are crucial to Thales for its success. Discovering new ways to step up to the challenges of modern society, Thales brings to the table a unique combination of technologies and talent that make Thales a key player in keeping the public safe and secure, guarding vital infrastructure and protecting the national security interests of countries around the globe and in India. Progressing in this direction, Thales' Engineering Competence Centres (ECC) in the National Capital Region and Bengaluru have been fostering R&D, and serving its projects and customers in India and abroad across different markets.
As an expert in civil / military aerospace with over 40 years of experience, we develop and implement integrated end-to-end solutions to command, control and coordinate air operations and to ensure flight safety, sovereignty and air superiority. Thales' solutions provide safety and security at all levels of the airspace both military and civil.
We make UAVs across the Group for the civilian and military markets (Spy'Ranger / Watchkeeper / UAS 100 etc.). We provide unmanned traffic management (UTM) derived from our expertise in air traffic management (ATM) and also counter unmanned aerial vehicles (CUAV) measures derived from our Air Defence expertise and enhanced by partnerships with small companies.
Thales, can manage the entire drone ecosystem — UAV systems, UTM, surveillance, C-UAS, neutralisation to:
Assist with the alignment of players / lead this ecosystem of civil and military organisations, regulatory bodies, major defence and aerospace companies as well as the many agile and innovative SMEs in the segment.
Offer end-to-end solutions based on expertise in air supremacy at all levels of the airspace.
Thales provides solutions allowing civil and military aviation authorities to detect – even without data transmission – and verify a drone's registration number, identify its pilot, and confirm its flight authorisation, all in a few seconds. By the same time, to cope with unexpected or non-registered drones, detection and classification are the first steps before engaging a graduated response.
For the drones that are not allowed, then a complete set of graduated neutralisation can be deployed, ranging from hijacking, jamming, drone interception, or even shooting down through directed high-energy weapon or ultimately air defence systems.
Thales will continue to help its customers master their decisive moments in an increasingly complex world. The organisation remains committed to India and helping its customers prepare for tomorrow, today. Thales congratulates the Indian Air Force and fellow Indians on the account of the 89th Indian Air Force Day.