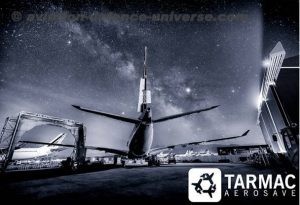 Paris. 16 June 2019. TARMAC Aerosave, a subsidiary of Airbus Group, Safran Aircraft Engines and SUEZ, presents another aircraft dismantling system. The leading company in aircraft storage with maintenance in flight conditions, maintenance and recycling, is attending the Paris Air Show from the 17th to the 21st of June 2019. The new system, which complements the cutting gantry based at the Tarbes site, has the main advantage of being mobile.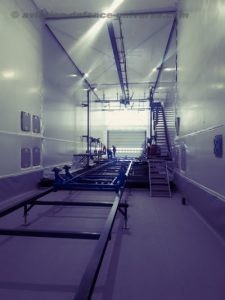 150 aircraft and 130 engines dismantled in 12 years
Thanks to the use of dismantling techniques which are unique in the world and vast storage areas spread over three European sites, TARMAC Aerosave has become the world leader in aircraft recycling. The cutting gantry, based at the Tarbes site, was designed by TARMAC Aerosave.There are other systems in Teruel which can dismantle aircraft autonomously.
Once decontamination operations have been completed, such as the removal and sorting of equipment and cabin materials, the gantry cuts the wings and fuselage in a controlled way using a diamond cable, no heat is required and the system is environmentally friendly.
During the last 12 years, TARMAC Aerosave has dismantled and recycled 150 aircraft ranging from regional single-aisle jets to widebodies, as well as 130 engines.
Nevertheless, the group's main activity is still the storage of aircraft in transition, with over 760 aircraft hosted over 12 years, three quarters have returned to flying.
A cutting tunnel for single-aisle aircraft To meet growing demand caused by fleet renewal, TARMAC Aerosave continues to develop new industrial systems in addition to the cutting gantry in Tarbes (aircraft stored at the Toulouse site are flown in for final cutting operations, other types of systems are used at Teruel).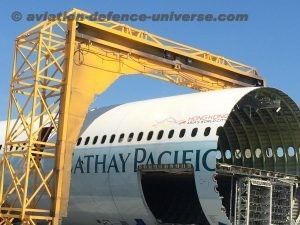 TARMAC Aerosave has now developed a cutting tunnel for civil and military narrow-bodies aircraft. Once the wings have been disassembled, the fuselage is cut into sections which are then recycled in exactly the same way as the sections produced by the cutting gantry.
To meet the growing demand for dismantling of aircraft anywhere in the world, TARMAC Aerosave has opted for mobile and autonomous systems. "This is a world first which enables us to export our know-how. Aircraft don't just come to TARMAC Aerosave, TARMAC now goes to the aircraft.This system gives us even more flexibility in terms of improving our cutting processes", says Patrick Lecer, chairman of TARMAC Aerosave.
This machine can cut up a single-aisle aircraft fuselage in just a few hours.