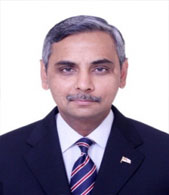 Commodore Anil Jai Singh, IN (Retd)
New Delhi. 07 April 2020. The name of Admiral Hyman G Rickover of the US Navy evokes a mixture of reverence and awe amongst submariners the world over. Synonymous with submarine nuclear propulsion, he overcame tremendous odds which included being superseded for promotion twice and almost being forced into involuntary retirement way back in 1953, it was his tenacity, dogged perseverance and unflinching commitment that nuclear power was successfully harnessed for undersea warfare and today forms the cutting edge of the USA's global maritime dominance.
A hard task master, he personally oversaw the selection of Commanding Officers of nuclear submarines and only accepted the best and the brightest. He was revered by submariners, hated by the establishment and a maverick to the core. He finally retired in his 80s as a 4-star Admiral by Secretary of the Navy, Lehman who, in 1982, successfully brought to a close Admiral Rickover's career of 63 years, of which 30 were as a Flag Officer as he felt that he had outlived his utility to the Navy. . Controversy dogged him till the very end.
It was in December 1982 that INS Vaghsheer , an Indian Foxtrot class submarine, enroute from Mumbai to Vladivostok for her medium repairs berthed in HMS Tamar, the Royal Navy's establishment in Hong Kong. Indian submarines transiting to Vladivostok for medium repairs was a regular feature at that time. Vaghsheer had crossed INS Vela returning from her MR from Vladivostok off Cochin and INS Vagli was already in Vladivostok having undertaken the same passage the previous year. Therefore, by all accounts this was a routine passage with the port visits enroute Singapore, Hongkong and Kobe and finally Vladivostok being the main attraction. Foreign travel was rare in those days was rare and India was still very insular. Even a McDonald's burger was something to look forward to.
India was still the land of the Ambassador and the Premier Padmini ( with a 10 year waiting period) so even a Toyota was an exotic beast… and here we were in Hong Kong with Rolls Royces galore. However, as it turned out, the passage turned out to be anything but routine for events that occurred both afloat and ashore. However, the afloat portion of the passage is another story worth recounting but this article is about the unique events that unfolded in Hong Kong. For yours truly, then a wet- behind- the- ears 22 year old Sub Lt, the entire passage was an unforgettable experience.
On arrival in Hong Kong we were hosted to a reception by the Indian Commissioner to Hong Kong (since it was a British territory, the Indian plenipotentiary was called a Commissioner); there was considerable excitement that a submarine was visiting and we learnt from the US Naval Attache that Admiral Rickover was also in Hong Kong and would be delighted to visit a submarine and enquired if such a visit could be arranged. This was an opportunity for us young submariners to meet a legend – to be honest, though most of us had heard the name, some of us had no idea of the legend he was since this period far pre-dated Google and Wikipedia ! The Captain felt that this would be a great opportunity for us to meet a legend and the next morning he, along with yours truly in tow, went across to inform the Commissioner of the American request and seek formal approval for the visit.
Official approval from the Commissioner soon followed and the stage was set for the Rickover visit. There was an understandable sense of excitement as we lined up on the submarine casing to receive him on board as by then we had been sensitized by the Captain of Admiral Rickover's fame. Yours truly, privileged to be the junior-most officer on board was the photographer and therefore the veritable fly on the wall wherever he went. Accompanied by his staff, he finally arrived and after the introductions was escorted to the Ward Room. Once on board, the maverick in him came to the fore much to the discomfiture and embarrassment of his staff. On being asked what refreshment would he prefer, he gave a typical Rickoverian reply – ''Elephants milk''. During the course of the conversation he also made it amply clear in no uncertain terms that as far as he was concerned, conventional diesel-electric submarines like Vaghsheer were 'mere submersibles' and only nuclear boats which could remain submerged indefinitely could be called submarines. He then wanted to walk around the submarine which the Captain deftly avoided. In the Control Room, (in a Foxtrot class submarine, the Control Room was very different from the Combat information Centre (CIC) on modern submarines) he wanted to know what happened in case of a power failure. I suspect he was not entirely convinced when told that all dials were luminous and would perhaps have liked to see that for himself.
As he left the submarine about 30 minutes later, to a collective sigh of relief from all of us and I daresay also his staff, who departed with a flurry of apologies, we returned to the ward room to discover that a file had been left behind by his staff. A quick glance revealed that the file contained a brief bio-sketch of all officers on board including mine whose juniority merited only a couple of lines but they were there. In fact the Captain's bio-sketch even made a mention of their perception of his ideological leanings. Soon after a US Navy Lt Cdr arrived to collect the file and apologized for having "forgotten'' it on board.
Despite his 82 years, he was extremely sprightly and active but we were convinced that he was heading towards senility. However, over the years when I read more about him including the famous book "The Rickover Effect'', I realized that he was just being himself and was far from senile.
While we felt privileged to have met a legend and I personally shall always remain grateful to the Commanding Officer for having given us this rare opportunity, we got busy with preparing for our onward passage which we had been warned would be stormy , rough and very cold. Little did we know then that while we were being tossed around in the stormy weather at sea, there was an equally rough storm brewing in the placid and hallowed corridors of South Block in distant New Delhi.
In 1982, the Cold War was at its peak with Leonid Brezhnev, at the helm in the USSR and Ronald Reagan, the President of the USA, playing a dangerous game of brinkmanship with nuclear Armageddon a very real concern. Hence the visit of an American Admiral – and that too Hyman Rickover of all people – on board a Soviet – origin submarine made the Soviet Union see red (pun intended!). Little did we know as we continued with our passage that this visit had created such ripples back home. The storm erupted much after the submarine had reached Vladivostok which incidentally was a closed city at that time. Indian submariners were the only foreigners and understandably a great hit with the local beauties which led to many a romance blooming there.
While we still don't know much about what transpired in the corridors of power in New Delhi, the visible fall-out of the Rickover visit was the replacement repatriation of the Commanding Officer back to India and being relieved by another CO with the Govt of India probably baying for his blood. However, once it was established that necessary approvals had been obtained prior to the visit, there really was nothing to pin on the Commanding Officer. In retrospect, this proved fortuitous for him because he thereafter went on to commission a brand new submarine and commanded it with great distinction.
Vaghsheer's passage was indeed eventful in more ways than one but it was because of the Rickover visit that we too became a tiny part of Cold War history, the stand-off that shaped five decades of the Post World War 2 global order till it ended with the breaking down of the Berlin wall and the spectacular disintegration of the Soviet Union.   
(Commodore Anil Jai Singh (Retd.) is a veteran submariner and the Vice President of the Indian Maritime Foundation. He is keenly interested in matters maritime and speaks and writes on the subject in India and abroad. The views expressed are personal. He can be contacted on editor.adu@gmail.com )