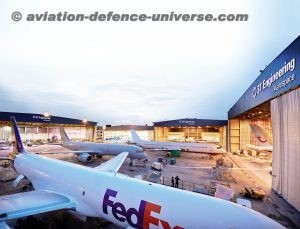 Paris. 19 June 2019. ST Engineering once again proved it is the leading global airframe MRO service provider by clinching, for the eighth consecutive time since 2002, top position in a biennial ranking conducted by Aviation Week Network. In the results of the Top 10 Airframe MRO provider ranking released earlier this year, ST Engineering continues to lead the way with 13.0 million airframe maintenance manhours in 2018, ahead of all other global industry players.
The manhours are supported by ST Engineering's global network of facilities in the Americas, Asia Pacific and Europe that can service 44 wide-bodies, 26 narrow-bodies and 24 general aviation aircraft at any one time.
Among the newer facilities is a hangar that the Group opened in Pensacola, U.S., in June 2018. Against the backdrop of a continuous rise in demand for air travel, ST Engineering will soon expand its capacity in the US city by developing an MRO complex which will contribute about 1.5 million manhours in annual capacity when completed in 2023. The expansion plans will enable ST Engineering to better serve the growing MRO needs of the North America region, which Oliver Wyman forecasted to grow at up to 2.7% CAGR over the next 10 years.
Apart from a growing and wide global network, ST Engineering also has the depth and breadth in capability to support a wide array of platforms. In Dresden, Germany, the Group has an A380 centre of excellence with a dedicated hangar to service the aircraft. Supported by a team of experienced engineers and technicians, the Dresden facility is able to provide a suite of solutions from line and heavy maintenance to cabin modification, all under one roof.
ST Engineering is showcasing its MRO solutions together with its other aerospace capabilities at Paris Airshow 2019, Booth D210 Hall 5 and Chalet No. 60, from 17 – 23 June.