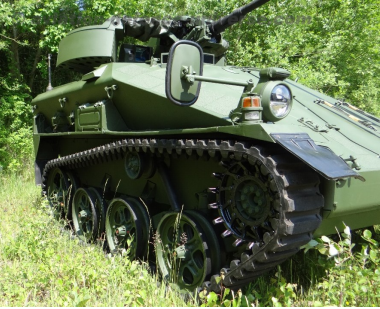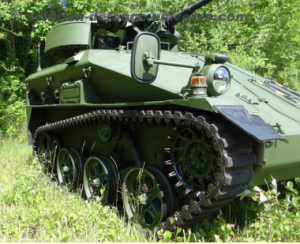 Paris. 11 June 2018. The Soucy Defense team is at Eurosatory showcasing the Wiesel. They are showcasing their CRT technology, in partnership with FFG Flensburg, on the upgraded German Army's Wiesel Armoured Weapons Carrier (AWC) vehicle. The Wiesel was originally developed for the German Army to meet a requirement for an air transportable light armoured vehicle for use by airborne troops. Given its small size and agility, the Wiesel has a requirement for a lightweight armour solution which provides high levels of ballistic protection, without impeding manoeuvrability.
Soucy's CRT consists of a continuously cased rubber band structure, reinforced with a range of composite materials and steel cord, weighing up to 50% lighter than comparable Steel track. This enables vehicles such as the Wiesel to meet the requirements of lighter weight and higher levels of manoeuvrability. PR 003/18 Over the past 28 years Soucy has developed and manufactured Composite Rubber Track (CRT) systems to meet client's requirements in over 10 countries worldwide, ranging between weight categories from 6 – 45mT. Our CRT System offers additional advantages: up to 70% vibration reduction (providing more crew comfort and prolonging life of on-board electronics); up to 13dB noise reduction (improving crew communication, situational awareness and vehicles battlefield stealth).
Comparison trials held by the UK MOD's Armoured Trials and Development Unit (ATDU) showed a 30% fuel saving. Our defence Business Development (BD) teams will be on hand throughout EUROSATORY in the Canadian Pavilion – Hall 5A – Booth C648 to discuss the benefits and advantages of CRT technology. Come and meet our team and find out more about the results following the ATDU trials.