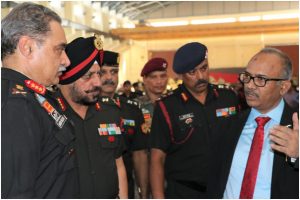 Hisar, India. 26 September 2019 . Terra Drone India, a provider of industrial drone solutions and data processing services, is showcasing a range of autonomous geo-intelligent solutions at the Indian Army's two-day Wartech Expo in Hisar, Haryana. The solutions, which utilize defence-grade drones, have been designed with a vision to cater to the Army's growing need of cost-effective, high-precision equipment that makes use of emerging technologies in the battlefield.
Tactical solutions introduced by Terra Drone India at Sapta Shakti Wartech Expo 2019
Synthetic battlefield:Utilizing highest-resolution digital terrain data and remotely sensed imagery, Terra Drone India is displaying its abilities to empower the Army with high-accuracy battlefield simulations. Terra Drone India COO Wing Commander Polu Sreedhar is present at the event to explain how the Army will benefit from these digital simulation models of cross-border areas while making advanced strike plans and tactical strategies. "These simulations will not only tell what the slope/shape of the terrain is like, but will also identify other on-ground features like roads, canals, and barrages," Sreedharclarifies.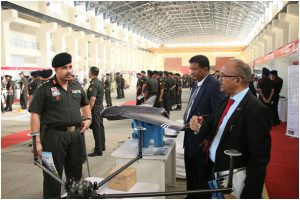 Battlefield micro-airspace management: To enable better management of battlefield assets on ground and in air, Terra Drone India is proposinga connected solution to track every activity in restricted areas – right from the movement of aircrafts to ground vehicles and soldiers. This solution would allow the military to demarcate restricted micro-airspace (where drones operate) and manage all access to it. "Using collision avoidance and real-time flight tracking technologies, the information will be relayed to and from the base station to aircrafts. In case of any breach by unidentified elements into the restricted area, a low-cost one-time-use drone could be deployed for precision striking," points out Sreedhar.
This low-cost unmanned aerial vehicle (UAV) will allow the armed forces to achieve high-precision strikes over long distances also. The easily deployable and easy-to-handle drone will be capable of carrying up to 1kg of payload in the form of explosives, etc.
Foliage Penetration: This smart solution for on-ground operations will use drones equipped with highly-advanced LiDAR (Light Detection and Ranging) sensors. With this technology, military personnel will be able to single out hidden features and get a detailed profile of the ground below the tree canopy, even in areas of dense foliage cover.
Air Ambulance: To empower the Indian Army with heavy-duty medical assistance anywhere on the field, Terra Drone India is also developing easily-deployable drones that can carry up to 200kg in emergency medical supplies.