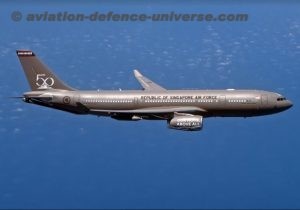 Singapore, 3 September 2018 – Airbus has delivered the Republic of Singapore Air Force's (RSAF) first A330 Multi Role Tanker Transport (MRTT). The aircraft made its first official public appearance on Saturday 1 September 2018 at the RSAF's 50th anniversary parade.
The new-generation A330 MRTT extends the endurance of the RSAF's fighter aircraft, and ensures the service's continued capability to provide air-to-air refuelling support.
It also provides the RSAF with greater cargo and passenger transport capabilities, and enhances its ability to contribute to international humanitarian assistance and disaster relief (HADR) and peace support operations.