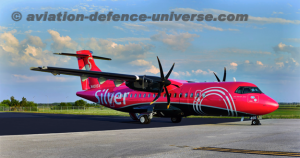 Delivery marks first time ATR-600 delivered to a U.S. carrier and first time a U.S. independent regional flying airline has taken delivery of a new aircraft in many decades
Farnborough. 16 July 17, 2018. Silver Airways is the first U.S. carrier to take delivery of the newly redesigned and technologically advanced, eco-friendly ATR-600 series aircraft, specifically made for short-haul travel from small to mid-size communities. The delivery marks the first time an ATR-600 has been delivered to a U.S. carrier and the first time a fully independent U.S. regional flying airline has taken delivery of a new aircraft in many decades.
The new aircraft are allowing Silver to expand it service on shorter-haul routes from small to mid-size cities in domestic and nearby international markets. By introducing the mission-specific ATR-42-600 aircraft, with seating for 46, Silver has the unique ability to offer safe, quick, direct flights on short-haul routes at an attractive price. The new ATR-600 series fleet will allow Silver to expand service for travelers on existing routes in Florida, the Bahamas, and New England, and recently announced routes in Texas, Louisiana, Missouri, Alabama, and beyond.
Silver recently acquired independent U.S. regional airline Seaborne Airlines and upon expected merger of the two airlines in 2019, Silver intends to utilize ATR-600 series aircraft from Seaborne's gateways in San Juan, Puerto Rico and the U.S. Virgin Islands to destinations throughout the Caribbean. The new ATRs replace 27 34-seat Saab 340B aircraft operated by Silver and Seaborne.
The delivery marks the first of up to 50 new ATR-600 series aircraft, including an initial order for 20 ATR-42-600 aircraft and the ability to up gauge certain deliveries to the larger series ATR-72-600s. As the world's leading regional flying aircraft, the new ATRs will provide Silver's passengers unparalleled experience and reliability and pilots the industry's most advanced cockpit.
"The new ATR-600 series aircraft will be transformational for Silver Airways and are ideal for our short-haul domestic and nearby international operations," said Steve Rossum, the chief executive officer of Silver and Seaborne. "Thank you to our ATR and Nordic business partners in structuring a unique series of transactions that were truly responsive to Silver's needs and our customers' expectations. Retiring the Saab fleet and replacing those aircraft with more customer-pleasing, current generation eco-friendly ATR aircraft creates a more reliable and efficient fleet that provides a better overall experience for our guests traveling on Silver."
"We are proud to see the ATR-600 aircraft ready to fly in the U.S. and to introduce the most modern standards of passenger experience and regional aircraft technologies," said ATR Chief Executive Officer Christian Scherer. "We are grateful to our friends at Silver for leading the way in what we hope to be a resurgence of eco and passenger-friendly travel in the U.S."
Silver has entered into leasing arrangements with Nordic Aviation Capital who have agreed to acquire the initial 20 aircraft from ATR for operation by Silver.
"We warmly welcome Silver Airways as a new customer and are grateful for the opportunity to have worked closely with the airline to provide an optimal solution to meet their fleet modernisation requirements," said Martin Møller, Chairman of Nordic Aviation Capital. "The ATR aircraft is firmly established in our portfolio of modern regional aircraft. This aircraft type allows us to offer our customers a significant reduction in fuel consumption and one of the most comfortable cabins in its class, through our tailored leasing solutions."
Subject to regulatory approval, Silver will begin operating the ATR-42-600s later in 2018 and the ATR-72-600 in 2019. Silver intends to take delivery of eight ATR-42-600s in 2018 with the remaining deliveries of the first 20 aircraft expected to be completed by 2020.
The new ATR-600 series features the widest cabin in the regional aircraft market with a new ergonomic design and lightweight slim seats offering passengers maximum comfort. Silver's ATR fleet will be configured with 46 seats in a 2-2 seating configuration with up to a 32-inch pitch offering more legroom than many mainline aircraft. In addition, Silver's ATR fleet will have spacious full-size overhead bins for carry-on bags along with full-size lavatories and bright LED lite cabins that are quieter than regional jets. The new ATR-600 series also features the latest innovations in cockpit technology with simplified, integrated LCD advanced functions, enhancing safety, and improved handling for pilots, as well as the latest in avionics technology. The state-of-the-art, all glass cockpit further reduces flight crew workload and enhances situational awareness while providing better reliability, maintenance cost savings and weight reduction.
Silver Airways unveiled its new "flamingo pink" color livery with the delivery of its first new ATR. The unveiling of Silver's livery has been much anticipated. Emblazoned with an eye-catching silver flamingo and maintaining the classic Silver Airways "turbine" has resulted in a fresh new look for Silver. Although the airline is expanding its geographic footprint, the flamingo is a natural choice as a memorable symbol of the airline's Florida roots. "The new livery is truly remarkable and was 100 percent designed by Silver crew members," added Rossum. "The bold colors embody the pride and confidence of our hard working crew in these new aircraft and in our company."