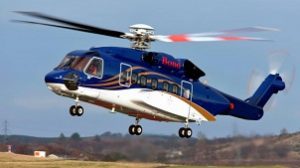 Farnborough, UK. 11 July 2016. Sikorsky and Babcock Mission Critical Services Ltd.  signed a 10-year agreement providing Babcock's S-92 helicopter fleet with extended support for its aftermarket material needs.
The contract was signed in a ceremony at the 2016 Farnborough Air Show by Sikorsky Vice President for Strategy & Business Development Nathalie Previte and Babcock MCS Chief Operating Officer Andrea Cicero.
Sikorsky and Babcock have done business together since 1979. The Babcock fleet currently features more than 20 Sikorsky aircraft, operating in the North Sea, Western Australia and Spain. Certified to meet the most stringent safety requirements around the world, the S-92 helicopter is one of the most successful helicopters in operation.
"We are pleased that Sikorsky is committed to improving material availability to keep these aircraft flying, and we are confident they will continue providing world-class support allowing us to deliver the critical services upon which our customers rely," said Cicero.
Sikorsky's Total Assurance Program provides Babcock continued aftermarket support to operate its S-92 fleet within a known budget, reducing the risk of unplanned costs.
"We have worked collaboratively with Babcock MCS on a number of points over the past two years," said Previte. "This agreement is the result of a collaborative effort to expand our support presence and meet Babcock's fleet requirements for improved operational readiness for their critical missions in both the Northern and Southern hemispheres."