Farnborough, UK. 14 July 2016. The first Chinese-made regional passenger jet, the ARJ21-700, has received 90 new orders. China Aircraft Leasing Ltd has signed to acquire 60 ARJ21 aircraft for around US$2.3 billion. This is the largest order of the aircraft since its commercial operations on June 28. One of the leasing firm's investors, Friedmann Pacific Asset, will invest in an Indonesian-based airline and help build up its ARJ21 fleet.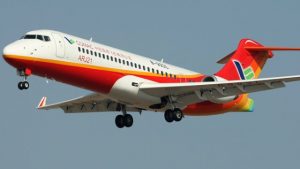 Meanwhile, the Aviation Industry Corp of China Leasing Co, or AVIC Leasing, signed a purchase agreement for 30 ARJ21 aircraft with COMAC too, taking the order book to 400. Both deals are for foreign customers.
The ARJ21 entered into service with launch customer Chengdu Airlines last month, after 14 years of development. The aircraft has however yet to gain Western certification, with most of its customers being Chinese airlines and leasing companies.
Members of the ACAC consortium, which was formed to develop the aircraft, are manufacturing major components of the aircraft. Chengdu Aircraft Industry Group: construction of the nose, Xi'an Aircraft Company: construction of the wings and fuselage; wing designed by Antonov State Company in the Ukraine, Shenyang Aircraft Corporation: construction of the empennage, Shanghai Aircraft Company: final assembly, G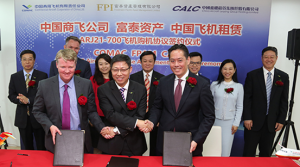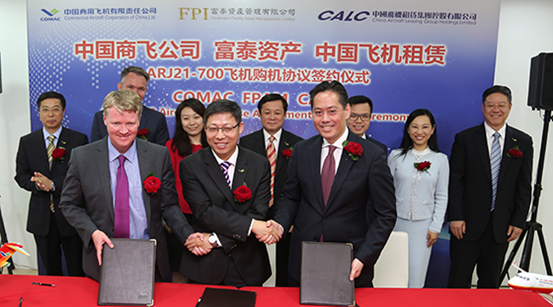 eneral Electric Company: CF-34 turbofan and Rockwell Collins: Avionics.
The variants planned are the baseline model ARJ21-700 which has a capacity of 70 to 95 passengers, stretched fuselage model ARJ21-900 based on the ARJ-700, will have a capacity of 95 to 105 passengers, ARJ21F is the planned dedicated freighter version of the ARJ21-700 which will have a capacity of 5 LD7 containers or PIP pallets, with a maximum payload of 10,150 kg and ARJ21B the planned business jet version of the ARJ21-700 which would cater for 20 passengers.
The first batch of aircraft of this bulk purchase will be delivered in the next one to two years, and the remaining aircraft of the confirmed order will be delivered in succession in the next five years.