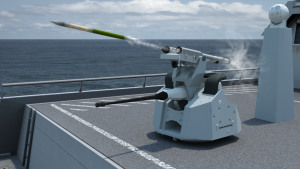 Siham Al Khaleej Technology, Leonardo and MBDA partners 
Abu Dhabi. 19 February 2017. UAE company Siham al Khaleej Technology (SAKT), together with Leonardo and MBDA are presenting an innovative and cost-effective weapon system designated "Siham3", providing a comprehensive and stand-alone anti-air and anti-surface capability to all types of warships. This industrial cooperation has been officially announced  and a mock-up of the system is  displayed at NAVDEX.
In particular, SAKT will be responsible for integration of the "Siham3" weapon system, which combines two Leonardo products,  the Oto Marlin WS 30mm naval gun and the Medusa MK4/B electro-optical fire control system (EO-FCS) providing a stand-alone capability to detect and track with high accuracy either air or surface targets. The system is completed with an  MBDA twin air defence mistral missile launcher on a single mounting.
This new system will be fully controlled by a single operator and will allow for a significant reduction in the ship's installation requirement thanks to a single mounted system. A further evolution of the Siham3will allow integration with a combat management system (CMS).
This "Made in the UAE" system will be developed, produced, assembled and integrated by the three parties together.