Larnaca, Cyprus. 08 June 2021. In an era of COVID 19 onslaught, when most of the shows have either got postponed or cancelled, Shield Africa is not only happening factually but has created a platform for the African continent defence forces to get an insight into their strengths and weaknesses, understand their needs to become state-of-the art and identify the technologies they would like to equip themselves with. Eventually the event is a buyer-seller market for the nations of the continent. "It brings together the international offer through its exhibitors offering official delegations and business visitors security and defence solutions adapted to the various constraints of African countries and meeting their expectations of results," said Fabienne Eskin, Shield Africa Exhibition Director, in an exclusive interview with Aviation & Defence Universe (ADU).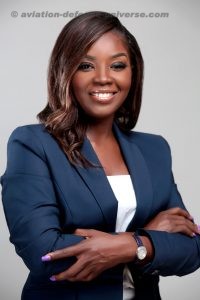 ADU. What the exhibitors and visitors can expect from this event?
FE. African countries as any other countries need to have a good level of security. ShieldAfrica is an African initiative aimed to respond to the security challenges of Africa.
Under support of both the Ivorian Ministry of Interior & Security, and the Ivorian Ministry of State Ministry of Defence, ShieldAfrica is the place for meetings and exchanges between experts, state representatives and industry professionals.
ShieldAfrica 2021 edition will take place from 8 to 10 June and will cover various topics such as:
– the transformation of African cities into safe territories;
– the protection of States, national identities, economic actors and trade;
– the preservation of human wealth, natural resources and the environment;
– the fight against terrorism, piracy, fraud, crime and illicit trafficking as well as support for private companies and public institutions.
The exhibition allows security and defence decision-makers on the African continent (public and private sectors) to compare their expertise and to discover with exhibitors the solutions adapted to the new challenges resulting from the growth of African cities.
The range of products and services presented at ShieldAfrica 2021 is very wide and presented by large groups, SMEs,… It brings together security and defence equipment and systems, the training necessary for their implementation, the logistics essential to their support, the latest products and technological innovations and robust equipment that has been proven.
ADU. How is this event a big show after the Covid Pandemic?
FE. This edition of ShieldAfrica, is a special one as it will take place this year in the context of a persistent pandemic and economic crisis. Despite all these constraints, while many major events are cancelled or postponed, we have decided to maintain our eventin a hybrid format with a reinforced sanitary protocol to welcome participants in complete safety. We have yet organised digital conferences on the topic of "news security issues in African Cities" that can be watched in replay on our website (www.shieldafrica.com). The physical exhibition will take placefrom 8 to 10 June 2021.
For physical 3-days event, the hygiene rules have been adapted, the existing procedures and protocols have been enriched with ministerial recommendations and rules.
Despite sanitary and economic situation, we are proud to welcome over 90 international exhibitors from 21 countries and to expect the attendance of over 80 official delegations from more than 30 African countries. It's going to be successful even if the situation in the world is not the best.
ADU. How is this event a road to normalcy in the defence trade show?
FE.Digital events have their limits, it's more difficult to discuss a sensible issue or sign a contract online. The physical event allows keeping contact among members of African S&D and world community.Today, the need to come back to physical event is really important.
Decision-makers from African countries come to ShieldAfrica to find appropriate responses to Africa's development security and defence needs. They meet each other, compare their experiences, discuss their needs, search for solutions together, as it is true that increased efficiency is based on regional approaches.
After the year of crisis, it's a great opportunity to African S&D actors and international companies come back to usual networking and to meet each other as they did before. So, the event will contribute to return to normalcy in security & defence shows.
ADU. Any new details that need mention for ShieldAfrica 2021.
FE. This year, our exhibitors offer solutions for:
– Infrastructure security
– Maritime safety
– Land mobility
– Cybersecurity
– Communication
– Clothing
– The CBRNe
Visitors registration is free and still open on our website. Registering before the event saves time on arrival. Do not forget to present an ID with its printed badge.
To inform yourself and prepare for your visit, check the list of exhibitors and other useful information on the official website of the event: www.shieldafrica.com