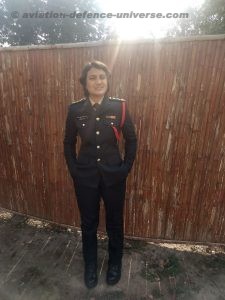 By Col NN Bhatia (Retd)
New Delhi. 28 February 2018. Dwarhat though a non-descript small town along the serpentine road, amidst cedar and pine trees, is the heart-captivating destination in the Kumaon hills with numerous ancient temples and mind blowing sightseeing tourist destinations to explore, relax and rejuvenate and the newly constructed Kumaon Public School for the service personnel's children. It is also the recruiting ground of the countless Kumaoni soldiers; many of them laying their lives in numerous wars and insurgencies India has been forced to fight. The modest Village Talli Mirai is located 31 Km from Almora district with modest population of around 500 and approximately 100 plus houses. Talli Mirai has produced many soldiers and the brave heart late Lance Naik Inder Kumar Rana of 6 Kumaon martyred in the Kargil War on 3 August 1999, while on extra regimental employment (ERE) with Headquarters 69 Mountain Brigade, leaving behind shattered 21 year old 'Veer Nari' Mrs Bimla Devi with three small kids- two daughters Meenakshi (6 years), Ritu (2 ½ years) and a son Kuldeep (1 ½ year), was one of them.
With not much of support from her in laws and bleak educational facilities in the village, Mrs Bimla Rana stayed with her three children in Talli Mirai for the next year and a half with constant worry of their upbringing. Under the aegis of war widows' hostel in the Kumaon Regimental Centre, Ranikhet, Mrs Bimla Rana took the bold decision to shift there in a small room with her children. This was, much to the annoyance of the village elders and her in-laws, proved to be the 'turning point' in moulding the lives of the 'Veer Nari' and her 3 siblings.
In Ranikhet, Mrs Bimla Rana though not well read, struggled hard and spared no stone unturned to educate her children. Meenakshi, who was admitted in the Hindi medium Government School, always aspired to join the Indian Army like her father keeping her martyr father Lance Naik Inder Rana as her role model. Her mother spent harrowing time wondering how her daughter could serve in ranks in the army. In one of the family welfare meets, she shared her experience with the first lady of the Centre-the Commandant's wife who in turn discussed the incident with her husband who explained to Mrs Bimla Rana that while ladies could not be enrolled in the armed forces, there was the possibility of Meenakshi getting short service commission (SSC) and for that she must be good in English, and therefore, study in an English medium school.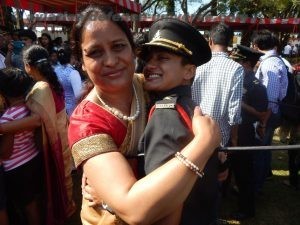 Mrs Bimla Rana was crest fallen as she could hardly ill afford expensive English school education for over 7 years with two more school growing kids with hardly any financial resources other than her meagre family pension. But the Regiment supported her and the gracious large hearted Commandant not only arranged Meenakshi's admission in the prestigious Ashok Hall Girls Residential School, Ranikhet but assisted in financial support also. Mrs Rana also did odd tailoring assignments to supplement her pension for growing financial needs for sustenance and children's education.
Meenakshi was a bright child, who kept trust, hope, sacrifices of her mother alive dovetailing them with her dreams and aspirations to get commission in the Indian Army. She passed 10+2 with 90 % marks and got admission in the Delhi University's prestigious Sri Ram College of Commerce (SRRC), from where she graduated in B.Com. Meanwhile she applied for the SSC and got selected for OTA Chennai. She joined OTA on 1 April 2014 and did exceedingly well during training ending up with two bronze medals in cross country, being part of the OTA horse riding team, holding the appointment of the Junior Under Officer (JUO). After successful training, she got commission in the Ordnance Corps and was posted to 28 Mountain Division Ordnance Unit.  Her second unit where she is serving now is the Division Ordnance Unit in Amritsar where she got promoted as Captain on 14 Oct 2017.
The younger sister Ritu, who has been equally good in studies and did BSc (Hospitality & Hotel Administration) from the Institute of Hotel Management, Catering & IHM Kufri, Shimla and now is gainfully employed as Front Office Executive with Taj Vivanta in New Delhi while the youngest sibling Kuldeep is pursuing final year of his graduation from Delhi University's prestigious Hans Raj College. For all the three children, the biggest motivational forces in their lives are their martyr father and humble but dedicated iron willed mother who with her perseverance, behind the scenes utmost silent work, dedication over the years, has ensured all are three children are BIG achievers in their lives. Interestingly though facing fearful odds, the entire family in their struggle is cheerful lot, always resilient against negativity, making them most suitable to face adversities in life. The Regiment and 6 Kumaon are constantly in touch with the family to help, support, guide and inspire the entire family.
I met the entire foursome Rana family some two years back at Ranikhet during the Regimental Reunion. Since my late brother Major PN Bhatia, VrC, 'Hero of Walong' was commissioned in 6 Kumaon & later his son Col Arvind Bhatia (now Maj Gen) commanded the same Battalion, naturally and understandably my interest in all four of them grew. Ever since, I am also in constant touch with the family and keep guiding, advising and motivating them. They all are deeply committed to each other and take care of each other.
 Meenakshi is also deeply concerned and constantly guiding Ritu and Kuldeep in their missions. As of now, SSC women officers, unlike their male counterparts, are not getting permanent commission. I do hope rules are changed and all professionally capable women officers are granted regular commission and so does Meenakshi. Meanwhile, I asked Meenakshi what next after 10+4 years service was over; with a twinkle in her eyes, she musingly hummed 'Que será, será, 'what will be, will be' and said that she would try for service in the National Disaster Management Authority (NDMA) or some central/state government security agency. Captain Meenakshi who loves and enjoys work, is physical fitness freak, keeps her room and work place utmost spic and span and admired by male dominated all ranks in her unit for her being highly professional, fair, respectful  and very positive decisiveness.
 Mother (Mrs Bimla Rana) hugging Lieut Meenakshi Rana on her commissioning – very proud moment indeed!
It is sad indeed our' Veer Naris' and widows are not treated well in our small towns and rural dwellings by their in-laws. In the instant case, the in-laws even tore off the photos of martyr Inder Rana when Mrs Bimla Rana insisted to move to Ranikhet for children's education and family has no photo to cherish martyr's memory. Notwithstanding hardships, Mrs Bimla Rana did her 10+2 silently. She also acquired modest flat in Dwarka and stays along with Ritu and Kuldeep, frequently shuttling between Delhi and Amritsar to be with Meenakshi. She was lately in Amritsar and attended cookery and bakery classes too.
'Hats Off' to role model 'Veer Nari' Mrs Bimla Rana who deserves 21 gun salute and A BIG LIFE TIME ACHIEVEMENT AWARD for her missionary zeal, persuasiveness, dreams and exemplary achievements of her children. While facing fearful odds, she left no stone unturned to accomplish her life's mission and has become role model for the sadly similarly placed countless faceless Indian women!