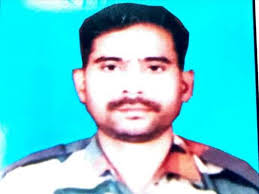 THE RAJPUT REGIMENT 44TH BATTALION THE RASHTRIYA RIFLES
On 22 Jun 19, based on receipt of information, a cordon and search
operation was launched in orchards near a village in Jammu and Kashmir
Havildar Alok Kumar Dubey using tactical proficiency assisted the
Company Commander in laying the initial cordon. Havildar Alok was deployed as stop in inner cordon. At 0540 hours, Havildar Alok observed suspicious movement in the thickly vegetated bushes just ahead of him. At 0545 hours, Havildar Alok observed a group of terrorists trying to break cordon by taking advantage of poor visibility and thickly vegetated terrain. Upon challenging , the terrorists lobbed a grenade and opened indiscriminate fire.
Displaying raw courage, Havildar Alok closed in to the group of terrorists and killed one terrorist at close range with aimed fire. The terrorist was later identified as a dreaded terrorist of category A++.
In utter disregard to his personal safety, Havildar Alok crawled further blocking escape route of the terrorists. Maintaining offensive spirit, he brought down heavy volume of fire pinning the terrorists down and facilitating maneuver of own parties to further tighten the cordon . His courageous action prevented escape of the terrorists and eventually elimination of all four terrorists.

For his indomitable spirit, presence of mind, exemplary initiative and
unparalleled courage, resulting in neutralization of a dreaded terrorist, Havildar Alok Kumar Dubey is awarded the "SHAURYA CHAKRA".
SHAURYA CHAKRA