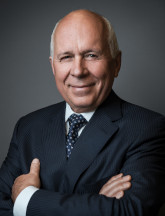 Dear Friends!
Welcome to the XV International Helicopter Industry Exhibition HeliRussia!
This year the exhibition celebrates its 15th anniversary. Over this course of time, the event has become a ponderate forum for dialogues between authorities, business and expert community.
The exchange of accumulated experience, recent technologies and new equipment are demonstrated. Business links are strengthened and expanded, mutually beneficial contracts are concluded.
The business program of the event this year includes discussion of such topical issues as import-substitution and aviation industry development strategy in the modern context.
.
I am convinced that the initiatives and recommendations developed at HeliRussia-2022 will be in demand in resolving these priority tasks.
Congratulations to the organizers, participants and guests on the anniversary exhibition!
I wish you successful work and all the best!
Sergey Chemezov
CEO of Rostec Government Corporation