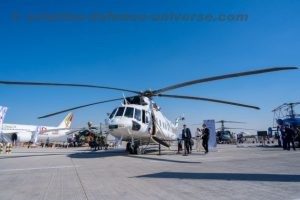 Dubai. 16 November 2021. Russian Helicopters Holding Company (part of Rostec State Corporation) and the Emirati company AJ Holding LLC have established a joint venture Alpha Aviation LLC in the Ajman Free Zone. The new company will promote and sell Russian civil helicopters abroad.
The key market for Alpha Aviation will be the Middle East, where it plans to sell more than 20 civil helicopters of various types until 2026 – Ansat, Mi-171A2, Ka-32, Mi-38. The joint venture is also responsible for organizing maintenance of Russian helicopters in the region.
"We have gained a reliable partner for our civil rotorcraft promotion in the Middle East represented by the AJ Holding. The joint venture format will make it possible to expand our presence in a region that is extremely important to us. The company started its operations just a few months ago, but today we can already see the first results – during the Dubai Airshow 2021, Alpha Aviation has signed a contract to supply two Mi-171A2 helicopters to Peru and an agreement to supply four Ansat and one Mi-17-1V helicopter for Emirate of Ras al-Khaimah police forces," Andrei Boginsky, Director General of Russian Helicopters, said.