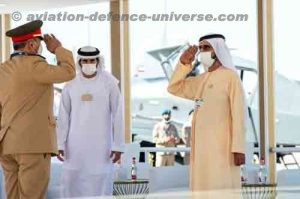 Dubai, United Arab Emirates. 14 November 2021. His Highness Sheikh Mohammed bin Rashid Al Maktoum, Vice-President and Prime Minister of the UAE, Ruler of Dubai and UAE Minister of Defence visited Dubai Airshow 2021 on its official opening day. The event was officially inaugurated by His Highness Sheikh Hamdan bin Mohammed bin Rashid Al Maktoum, the Crown Prince of Dubai who led the Royal Tour in the morning. This marked the start of the much-anticipated Airshow, which runs from 14-18 November at Dubai World Central (DWC) Al Maktoum airport.
Industry specialists and leaders from across the aviation, aerospace, space and defence sectors arrived at the Airshow from every part of the globe. Almost 150 countries are represented at this year's Airshow which includes 20 country pavilions and new additions from the Czech Republic, Belgium, Brazil, Israel, and Slovakia. There are also civil and military delegations from more than 140 countries with more than 370 new exhibitors at the event. This year's Dubai Airshow is expected to be the biggest edition of the event since it began in 1989, with around 85,000 visitors expected to attend across the week.
His Highness (H.H.) Sheikh Ahmed Bin Saeed Al Maktoum, President of Dubai Civil Aviation Authority, Chairman of Dubai Airports and Chairman and Chief Executive of Emirates Airline and Group attended day one of the Airshow and was part of the Royal Tour.
Timothy Hawes, Managing Director at Tarsus Middle East, organisers of Dubai Airshow 2021 said: "It is fantastic to see Dubai Airshow back again in the most advanced and futuristic form it's ever been in. We are displaying world-class products, solutions and services from market leaders and disruptors. A number of aircraft are making international debuts at this Airshow with sustainability and efficiency being key focus areas throughout the week. Innovation and entrepreneurship are also central themes for the week and we commenced the VISTA sessions today which provides insights for start-ups."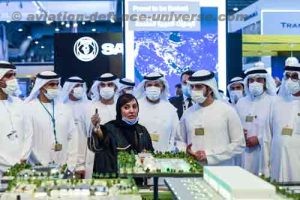 The International Aviation Womens Association (IAWA) talks began on day one as part of the Aerospace 2050 stream. The sessions featured opening remarks by Chairperson Selda Konukcu, Vice President, IAWA Middle East and Asia who highlighted the ongoing need for equal opportunities across the industry.
Dubai Airshow 2021 is held under the patronage of His Highness Sheikh Mohammed Bin Rashid Al Maktoum.