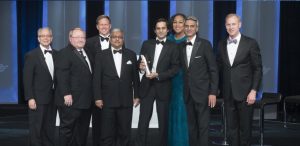 New Delhi. 28 June 2016. Rossell Techsys (Division of Rossell India Limited) has been recognised as "Supplier of the Year – 2015" in the Pathfinder Category by Boeing. Rossell Techsys was one of 12 companies honoured at the Washington State Convention Center, Seattle on the evening of April 13, for outstanding performance in working with Boeing.
Achieving the "Supplier of the Year" distinction is an acknowledgement of its superior performance and puts Rossell Techsys in the best of the best class of winners, among the 13,000 odd active suppliers of Boeing. This selection was based on stringent performance criteria for quality performance, delivery performance, cost, environmental initiatives, Training and Learning initiatives, customer service and technical expertise.
Rossell Techsys is also one of only 107 GOLD rated companies, among the 13,000-plus active suppliers, to receive the Boeing Performance Excellence Award (BPEA) which rewards consistent performance excellence. Rossell Techsys has consistently achieved a GOLD rating in Quality and Delivery, consistently over two years.
"What they have done has built a company culture that has resulted in 100 per cent on time and quality and has met our expectations, especially for a company that has been around two years. It is kind of unheard of to have a company go from start up to "Supplier of the Year" this quickly", said Phil Ament, Boeing Director – International Supplier Management, Boeing Defence, Space and Security.
"We have made focussed investments in infrastructure, People and Processes, to offer best in class manufacturing services, with commitments to be a trusted and reliable partner for Boeing. Receiving this global accolade validates our partnership with Boeing and vindicates the faith and trust that Boeing has put in Rossell Techsys," said Rishab Gupta, Executive Vice President, Rossell India Limited.
"This award further reinforces our commitment to be a strong partner to companies like Boeing and to set benchmark standards in quality, time and cost objectives," said Prabhat Bhagvandas, Chief Executive Officer, Rossell Techsys.
Rossell Techsys is currently working with Boeing on a number of airborne Military platforms that include the F/A-18, the F-15, the AH-64, the H-47, the KC-46 Tanker and the P-8.
This has also been the first company to partner with Boeing in its skilling initiatives in India, and has completed the first ever industry sponsored, year long, aerospace domain specific post diploma course that has enabled 30 trained students to obtain global standard skill and experience to be gainfully employed. The Rossell Techsys Training Infrastructure has been recognised by Boeing for its state of the art training facilities and curricula.
Rossell Techsys has also been the recipient of a number of awards in the year 2015, including the best SME awarded by ASSOCHAM. Rossell Techsys is AS9100, ISO9001, ISO14001, ISO27001 and BS18001 certified as well as CEMILAC approved, and operates from Whitefield, Bangalore.