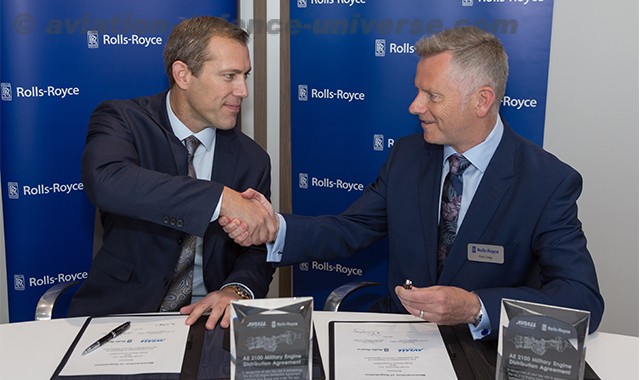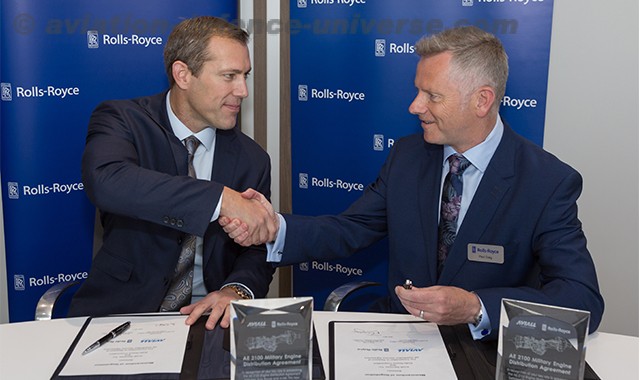 Le Bourget.  20 June 2017. Rolls-Royce and Aviall, a Boeing Company, have reached a new parts sales and distribution agreement, initially worth $3 billion at list prices, to support the global fleet of AE defence engines.
Under the terms of the agreement Aviall will become sole sales and distribution provider of engine parts for all defence variants of the Rolls-Royce AE engine family around the world. Aviall already provides world-class service for the global operators of Rolls-Royce T56, M250 and RR300 engines, powering thousands of aircraft.
The AE family of engines comprises the AE 2100 turboprop, which powers the C-130J, C-27J and Shinmaywa US-2 aircraft; the AE 1107C turboshaft, which powers the unique V-22 Osprey tilt rotor aircraft; and the AE 3007 turbofan, which powers the Global Hawk unmanned surveillance platform.
Dr Paul Craig, Rolls-Royce Director – Defence Services, said. "As the AE engine fleet grows and multiple international operators are added, Rolls-Royce continually looks for new ways to serve and provide more value to our customers. This new agreement with Aviall will ensure operators of AE military engines around the world will get the best parts distribution service available. It complements the Rolls-Royce focus of working with our customers to deliver availability and mission success."
"We are pleased to continue expanding our relationship with Rolls-Royce through this exciting new agreement," stated Aviall President and CEO Eric Strafel. "We look forward to utilising our integrated supply-chain network to deliver global parts and distribution solutions that create value and ensure mission readiness for customers operating the AE family of defence engines."
The agreement will mean continued outstanding parts availability to both our fleet operators and our Authorised Maintenance Center network and keep AE defence engines in operation for years to come.