System improves revenues, creates more efficient operations and enhances passenger satisfaction
Fully hosted, web-based solution quickly implemented at the airline
Solution scalable to handle large influx of passengers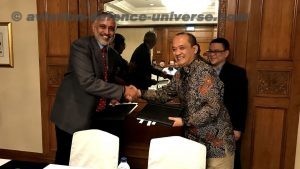 ANNAPOLIS, Maryland (Mar. 28, 2018) – TransNusa, an Indonesian airline serving east Indonesia, has implemented Rockwell Collins' full suite of ARINC PaxLinkSM passenger services for managing its airline inventory, booking and passenger handling.
With PaxLink, airlines can select from a number of modules to create a tailored solution to streamline passenger check-in, boarding and flight load planning, online reservation sales, inventory management, departure control, and weight and balance. Its modular design allows for easy expansion and updates.
A fully hosted, web-based solution, PaxLink is implemented quickly as its pre-integrated with ARINC AviNet® network connectivity and no additional client site hardware or software installation is required.
"TransNusa is a progressive airline always looking for innovative solutions such as PaxLink," said Bayu Sutanto, managing director for TransNusa. "This solution is one that will grow with us and provide streamlined operations."
TransNusa is one of several customers subscribing to ARINC PaxLink. The total number of passengers using PaxLink is expected to grow exponentially by the end of the year. The PaxLink system is designed to be utilized across multiple modes of transport including rail, ferry and bus.
"We designed PaxLink for small-to-mid-sized airlines to better manage its broad array of passenger service needs through one interface," said Michael DiGeorge, vice president, Commercial Aviation and Network Services at Rockwell Collins. "By integrating connectivity, TransNusa can more efficiently manage its growing passenger base at a lower cost with the highest reliability."
ARINC PaxLink is a collaboration between Rockwell Collins and Sqiva, which was founded in 2004 to create innovative IT solutions for the transportation industry.