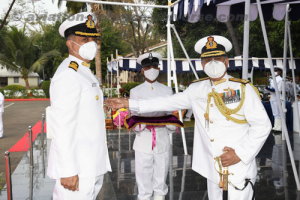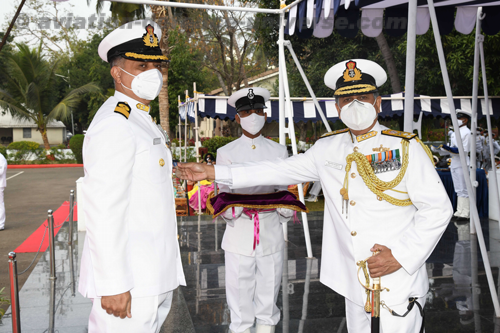 Visakhapatnam. 26 January 2022. A Ceremonial Parade was held at the Eastern Naval Command (ENC) parade ground at INS Circars on 26 Jan 22 on the occasion of 73rd Republic Day. Vice Admiral Biswajit Dasgupta AVSM, YSM, VSM, Flag Officer Commanding-in-Chief, ENC took the salute and inspected a 50 men Guard. He later reviewed the platoons comprising of naval personnel drawn from all ships, submarines and establishments.
Vice Admiral Sanjay Vatsayan, AVSM, NM Chief of Staff, ENC, was the Conducting Officer of the Parade which was attended by all Flag Officers, Commanding Officers of all ships, submarines and establishments at Visakhapatnam. All COVID norms and protocols were adhered to during the ceremony.
The Naval Investiture Ceremony was also conducted during the parade. Vice Adm Dasgupta presented Nao Sena Medal (Gallantry) to Naveen Kumar Leading Seaman(UW) for displaying indomitable courage, conspicuous gallantry and bravery beyond the call of duty resulting in the elimination of two hardcore terrorists in Kashmir. The C-in-C also presented Nao Sena Medal (Devotion to Duty) to Cmde Rahul Vilas Gokhale in recognition of his overall contribution to the Navy for over twenty-nine years. Lt Cdr Tushar Bahl (Retd) was presented the Lt VK Jain Memorial Award for outstanding applied research in the field of embedded technologies and SAVL Haranandh POA(AH) was presented the Capt Ravi Dhir Memorial Gold Medal for promoting Flight Safety in Naval Air Operations. The C-in-C also presented the Unit Citations for the year 2020 to Naval Dockyard, Visakhapatnam and INS Jalashwa for their outstanding performance.
Addressing the personnel on parade, the Commander-in-Chief extended his Republic Day greetings to all naval personnel, defence civilians and their families. He emphasised the significance of Republic Day and brought out that whilst we are well aware of our Fundamental Rights, it is equally important to know and abide by the Fundamental Duties enshrined in the Constitution.
Vice Adm Dasgupta exhorted everyone to continue to follow the COVID appropriate behaviour of maintaining personal hygiene, maintaining social distancing and wearing masks during the ongoing third wave of the pandemic.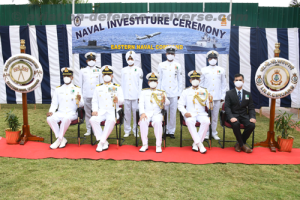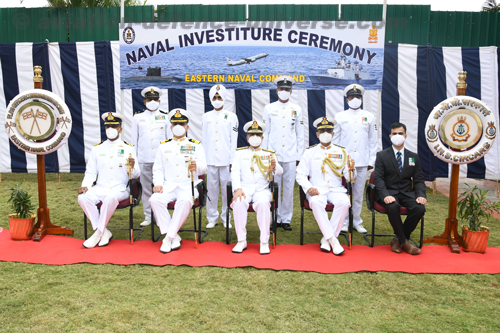 The C-in-C added that while preparations are in place for hosting the President's Fleet Review on 21 Feb and the Multilateral Naval Exercise MILAN from 26 Feb to 04 Mar at Visakhapatnam, he urged everyone to work diligently for the successful conduct of both events. A large number of dignitaries, including the President, Prime Minister, Governor and Chief Minister of Andhra Pradesh, the Defence Minister and a large number of central and state ministers/ MPs/MLAs would be attending these events.
The C-in-C concluded his address by congratulating all the award winners and their families. The ceremony ended with the singing of the National Anthem by all personnel on parade and the guests.