Compiled by :Elizaveta Alekseeva
ThyssenKrupp : naval technology at its best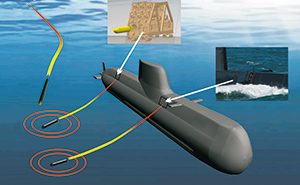 ThyssenKrupp is a Platinum Sponsor for this year's Undersea Defence Technology exhibition and conference. The company specialises in the manufacture of premium naval vessels and non-nuclear submarines. With over 100 years on the market, they are able to provide high-quality services in all of their three operating units: submarines, surface vessels, and service.
ThyssenKrupp group includes Howaldtswerke-Deutsche Werft GmbH and Blohm+Voss Naval GmbH which focus on ship engineering. The company has an extensive range of products to offer its customers. Four submarine models, including HDW Class 212A which has been referred to as "the peak of German submarine technology".
ThyssenKrupp manufactures two corvettes Blohm+Voss MEKO® 140 that has a telescopic hangar, and iBlohm+Voss Class 130 with an all-UAV hangar arrangement. The company also builds three different models of frigates and a Combat Support Ship, Class BERLIN. Although the company's main area of operation is ship and submarine manufacturer, the company excels in the steel industry overall, being the world's largest steel producer.
Currently, 19 countries use submarines and ships manufactured by ThyssenKrupp. In 2015, the company's revenue has been ranked as 10th largest in the world. Their headquarters are situated in Essen, Germany, though ThyssenKrupp has about 670 subsidiaries all over the world. 
Thales :delivering innovative solutions where it matters.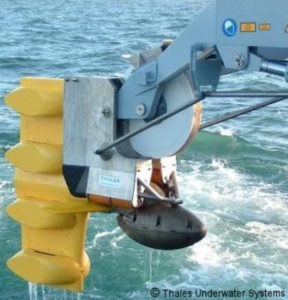 Thales is a multinational company that works in five different niches of the market: defence, securi-ty, ground transportation, space, and aerospace. The company has been founded 17 years ago mak-ing it an experienced provider of goods and services in all its areas of operation.
Thales takes pride in its ability to provide quality solutions to their customers. With its headquarters located in Paris and a number of offices situated in 56 countries around the world, Thales can effectively communi-cate with clients in different countries and execute their demands impeccably. Thales provides jobs to over 64,000 specialists globally and has generated 14.9 billion euros in revenue in 2016. In 2013, the corporation has been named as the 10th largest defence contractor in the world.
The company's major shares are controlled by the French state and the Dassault Aviation. One of their projects, Watchkeeper WK450, has won the UK Army contract for unmanned aerial vehicle which came to be Europe's largest UVA-battlefield based programme. Thales is one of the world's leading provid-ers of sonar systems. The company has equipped over 40 naval forces worldwide. During this year's UDT, Thales will be hosting a number of conferences concerning maritime and undersea defence solutions.