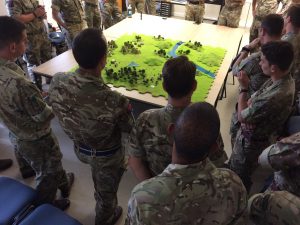 RINA are claiming to have changed the cost dynamics of the war gaming world through the introduction of PREEceptTM, a VBS3 based decision support simulation system.
RINA's approach to designing their decision support toolset has been to study the training consultancy market and conduct a detailed analysis of what the MOD and civilian sector are currently using in the field of decision support techniques and software. As expected, RINA confirmed that the military were conducting training in their own tactics, procedures and protocols in a visualised way so that they could see their military planning 'play out'. So, RINA went about procuring an extensive military model at 1: 300 NATO scale and added weapon effects, ranges and distances on the ground that could be accurately measured. This model can then be used in conjunction with a virtual defence simulation system which uses VBS3 (the UK MOD's Defence Virtual Simulation solution). By using terrain built in VBS3, maps can be printed that match the model terrain creating a joined-up war gaming and military planning training solution.
This highly cost effective and seamless solution allows military commanders to practice what they have already been taught in a virtual environment but more importantly on a physical modelled environment. Any scenario can be reset multiple times and – as the MOD have chosen to use VBS3 as a defence simulation tool – the license cost, a major component, is not incurred. Often military simulators can cost millions of pounds but PREEcept can be delivered at a fraction of that cost and still provide CT1, CT2 and CT3 training levels. PREEcept is a simulation system that is truly affordable which could explain way both NATO and MOD are taking a keen interest adopting the system.
RINA's Space & Defence Deputy Director, Charlie Lewis is excited at the opportunities," We have brought together the map, the model and the virtual simulation in a seamless manner and included weapon effects and ranges in a physical environment we can replicate that in a virtual environment."
RINA will facilitate any training event and will bring all the simulation equipment and the model to any specific location, while the customer provides the subject matter experts. The company, with its complement of highly experienced, ex-military planners, can also supply any desired Operational Staff Work which are the written plans providing the context for planning and war gaming. PREEceptTM is much more than war gaming as it offers a comprehensive, multi-technique cohesive solution to Decision Support.
RINA provides a wide range of services across the Energy, Marine, Certification, Transport & Infrastructure and Industry sectors. With a turnover in 2017 of 437 million Euros, about 3,700 employees and 170 offices in 65 countries worldwide, RINA is a member of key international organizations and an important contributor to the development of new legislative standards.