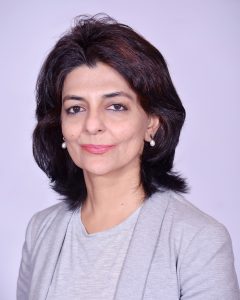 New Delhi. 02 October 2021. "Pratt & Whitney has been powering Indian Air Force's fleet with advanced propulsion solutions, such as the F117 engines on the IAF's 11 C-17 Globemasters, and the PT6A on its 75 PC-7 trainers. In addition to this, our PT6A engines and APUs power India's indigenous, in-development aircraft like the NAL-Saras and Netra AEW&CS, serving as a great example of our partnership with local aircraft development programs. We also look forward to powering the IAF's C295 aircraft fleet with our efficient and dependable PW127G family of engines," informed Ashmita Sethi, President and Country Head, Pratt & Whitney in an exclusive interview with Aviation & Defence Universe (ADU) on the occasion of Indian Air Force's 89th anniversary.
ADU. Pratt & Whitney powers a variety of aircraft across commercial and military aviation. How is it helping Indian Armed Forces with its modernization?
AS. Pratt & Whitney is proud of its long-standing partnership with India that spans over seven decades. During this time, our continuous efforts to support, both India's civil and military aviation has further strengthened our association with the country.
Today, Pratt & Whitney has nearly 1500 engines and Auxiliary Power Units in-service on a vast number of aircraft in India. Our GTF (geared turbofan) engines that power more than 180 A320neo family aircraft for Go FIRST and IndiGo have saved more than 150 million gallons (580 million liters) of fuel, avoided over 1.4 million tonnes of carbon emissions, and gained more than 2.8 million hours of experience. This award-winning design has changed the game in commercial aviation and is the kind of innovation that will continue to deliver economic value to airlines and passengers, while also dramatically reducing our environmental footprint – as India focuses on sustainable flying in the near future. Our engines power more than 680 aircraft across commercial, regional, helicopters, general and business aviation – and power critical platforms for the Indian Air Force (IAF).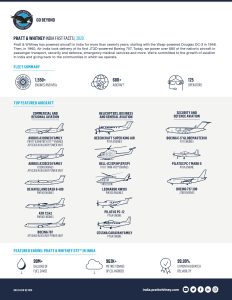 ADU. The Government has recently approved the procurement of the C295 military transport aircraft powered by the PW100. Could you elaborate more on PW100 capabilities?
AS. We believe that the procurement of the C295 medium transport aircraft will act as a major boost to the IAF's strengths and capabilities. It is a significant step towards realizing the Indian Government's vision of Atmanirbhar Bharat (Self-Reliant India) since 40 C295 aircraft will be made in India. The procurement is equally significant for us as the C295s are powered by our versatile and dependable PW127G engines.
The PW127G is part of the PW100/PW150 engine family which powers a variety of aircraft. The engine family is known for its ability to excel at diverse missions such as regional commercial airline service, firefighting, aerial surveillance, cargo transport, humanitarian services and civil defence. The twin PW127G engine in the C295 features low fuel burn capabilities during cruise and gives the aircraft exceptional range and endurance for time-critical missions.
ADU. What are your views on the indigenous Advanced Medium Combat Aircraft (AMCA) program? Could you partner with the Indian industry?
AS. As maker of the world's most advanced engines, we understand the critical role that engine performance and development play in the success of new platforms. Indigenous fighter jet platforms like the Advanced Medium Combat Aircraft (AMCA) are a major step towards enhancing IAF's frontline mission capabilities and bolstering India's aerospace and defence industry. We have been the propulsion partners on local programs like the NAL SARAS and our APUs power the Embraer's ERJ-145 aircraft platform on which the IAF's Netra AEW&CS is based – therefore, we always look forward to new avenues to serve India and are happy to engage on any opportunity our customers see fit for us in the long run.
ADU. How is Pratt & Whitney helping in the maintenance of its engines? Could you elaborate on its MRO services in India?
AS. Alongside powering India's aircraft with our advanced engines and propulsion systems, our mission is to also develop and strengthen all other major components of its aerospace ecosystem. One such key component is the Maintenance, Repair and Overhaul (MRO) facilities which play a critical role in flight readiness. We have a comprehensive global engine repair and overhaul services and support that is backed by state-of-the-art service network of engines OEM-owned and designated facilities.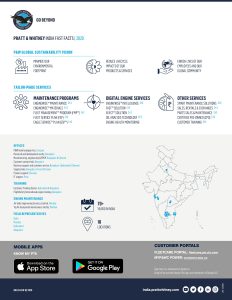 With over 180 aircraft with GTF engines in India, we established Air India Engineering Services Limited (AIESL) as a provider of maintenance services in support of GTF operators in country last year. We have a strong history of collaboration with AIESL, and for over 20 years AIESL has performed overhaul services on legacy Pratt & Whitney engines such as the JT8D, JT9D, & PW4000.
The Indian Government has recently come up with the new MRO policy which aimed at making India a global MRO hub. We welcome this move by the Government to streamline India's MRO ecosystem and also believe that it is important to focus on 'commonality' between civil and defence aviation. Commercial and defence MRO capabilities for India should operate in tandem in order to create the right synergy to help India meet its Aatmanirbhar vision. Engine MRO is highly advanced and presents significant opportunities for advancement, collaboration and co-development to India. This holds especially true as the country pursues its ambitions for an indigenous fighter engine.
Another factor to consider here as India builds its MRO capabilities, is developing the right training and skilling infrastructure – that caters to both civil and defence aerospace. For example, Pratt & Whitney's state-of-the art India Customer Training Centre (CTC) in Hyderabad is equipped with actual aircraft engines (GTF and V2500), specialized and general-purpose tooling, as well as advanced audio-visual teaching aids. The center at Hyderabad has imparted 11,500 student days of training to over 39 operators representing over 27 nationalities so far. The India CTC at Hyderabad has the capabilities to train IAF's frontline engineers on Pratt & Whitney engines, in country. Therefore, these are additional avenues of taking advantage of commonality India must explore.
ADU. Atmanirbhar Bharat campaign has been given a significant boost especially with respect to defence manufacturing. How does Pratt & Whitney view this initiative and how is it contributing?
AS. At Pratt & Whitney, we support government's vision of self-reliant India and continue to support government's initiatives such as 'Make in India', 'Skill India' and 'Start-up India.' We not only continue to partner on indigenous content collaboration, but also expanding our network in India through collaboration and partnered investment in innovation, sustainment, supply chain and research in the country. We have been working closely with leading Indian suppliers such as Cyient, Quest, Accenture and HCL for our engineering, software and sourcing needs. As we aim to grow our footprint further in-country, we hope to have some new announcements to share soon.
ADU. R&D plays a very major role for creating futuristic technologies. Can you elaborate on Pratt & Whitney's R&D activities and investment?
AS. The Pratt & Whitney GTF™ engine is already delivering next-generation technology, fuel economics and environmental performance, today. As the quietest, greenest, most efficient engine family available for single-aisle aircraft, GTF engines are delivering up to 20% lower fuel burn and carbon emissions, 50% lower regulated emissions and 75% smaller noise footprint. But we're not stopping there. Our GTF engines have a long runway for growth, and we continue to invest R&D in digital technologies, additive manufacturing, advanced high-temperature materials, and hybrid-electric propulsion.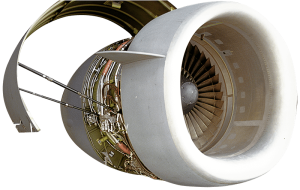 We also announced our plans to enhance the hybrid-electric propulsion technology and flight demonstrator program to lead the industry with our sustainable flying solutions. The new hybrid-electric propulsion technology will drive significant improvements in aircraft efficiency by optimizing performance across the different phases of flight, allowing the demonstrator to target a 30% reduction in fuel burn and CO2 emissions, compared to a modern regional turboprop airliner.
We believe in India's potential to contribute significantly towards next-gen aerospace propulsion technologies. That's why we have had a Research & Development (R&D) presence in-country for more than a decade, through our Center of Excellence (COE) located at the Indian Institute of Science (IISc), Bengaluru. The COE has been engaged in state-of-the-art research since 2012, in the areas of advanced materials, combustion, and mechanical design. The center also recently expanded its capabilities to include research in advanced gas turbine technologies. The team at center also identifies and monitors new collaborations and projects with leading universities in India, including IIT, Bombay and University of Hyderabad.
Globally, we are deploying the use of advanced robotics, automation and additive manufacturing technologies to further enhance the level of operational effectiveness in our facilities. For example, at our Component Aerospace Singapore facility, we're making strong progress in additive manufacturing with the first-in-MRO application of 3D printing for aero-engine component detail. We also have a new 60,000 square-foot facility in Carlsbad, California, that will be dedicated to the design, development, and production of ceramic matrix composites (CMCs) for aerospace applications.