FARNBOROUGH, England, July 19, 2022 – Pratt & Whitney Canada, a business unit of Pratt & Whitney, announced today that the PW127XT-M engine continues to set the standard for operating economics, maintenance and sustainability for regional aircraft. Deutsche Aircraft recently selected the PW127XT-S for its D328eco™ regional turboprop, further proof of the engine's value and marketability.
"The performance of the PW127XT engine series is helping drive sales of new aircraft and we are delighted with the success of the new engine/airframe pairings," said Anthony Rossi, vice president, Marketing & Sales for Pratt & Whitney Canada. "We expect the engine will be certified by Transport Canada imminently."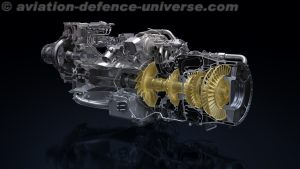 Launched at the Dubai Airshow in November 2021 and purpose-built to offer world-class reliability and increased value for ATR 42/72 aircraft, the PW127XT-M engine offers 40% extended time on wing, 20% lower maintenance costs and 3% improvement in fuel efficiency, due to engine improvements making the regional turboprop even more sustainable. Regional turboprops currently boast up to 40% improvement in fuel efficiency compared with similar missions for the 30-70 passenger regional jet aircraft market.
"Pratt & Whitney Canada is uniquely positioned to bring productive, safe propulsion to the world by combining efficient thermal and electrical propulsion systems, while offering the broadest suite of solutions to customers," continued Rossi. "To that end, in addition to enhancing the efficiency of our current engines as evidenced by the success of the PW127XT engine series, we have made several advancements in our sustainability roadmap that herald the application of proven technology to achieve net zero CO2 emissions by 2050."
Recent developments in sustainability for the company include:
Pratt & Whitney Canada's hybrid-electric propulsion technology and flight demonstrator project was launched last year using a De Havilland Dash 8-100 aircraft as a demonstrator platform. Pratt & Whitney is developing the hybrid engine, the electric portion of which will be developed by our sister company Collins Aerospace. H55 S.A. recently signed on to provide the battery pack for the project.
Pratt & Whitney has been selected by the U.S. government to work on a hydrogen steam-injected, inter-cooled turbine engine – HySIITE. The goal: achieve zero inflight CO2 emissions, an 80% reduction in nitrogen-oxide and reduce fuel consumption by 35% for next-generation single-aisle aircraft.
Pratt & Whitney Canada collaborated in June with ATR and Swedish carrier Braathens to successfully flight test an ATR aircraft with both of its PW127-M engines using 100% Sustainable Aviation Fuel from Neste. Pratt & Whitney has also ground tested the use of 100% SAF on its GTF Advantage engine with Embraer. The use of 100% SAF can reduce CO2 emissions by 80%; with time and the development of new technology SAF could eliminate CO2 emissions totally.
Lastly, Pratt & Whitney Canada's carbon offset program is available for all P&WC-powered business jet, helicopter, general aviation and regional aircraft customers enrolled in an Eagle Service™ Plan (ESP™) or Fleet Management™ Program (FMP™). The service allows customers to simply and effectively offset the carbon footprint of their aircraft.