GTF Engines Save Chinese Operators 30 Million Gallons of Fuel to Date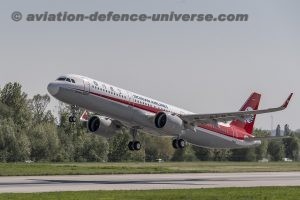 CHENGDU, China, November 12, 2019 –Today marks the 100th Airbus A320neo family aircraft delivery in China equipped with fuel efficient Pratt & Whitney GTF™ engines, an A321neo aircraft to Chengdu-based operator Sichuan Airlines Co., Ltd., leased from global aircraft operating lessor BOC Aviation. Pratt & Whitney GTF engines have helped connect nearly 20 million passengers in China to date. Pratt & Whitney is a division of United Technologies Corp. (NYSE: UTX).
"Sichuan Airlines was one of the first in China to receive the GTF engine and today we are proud to take delivery of the 100th GTF-powered A320neo family aircraft in China, which is our 18th aircraft of this type," said Li Haiying, Chairman of Sichuan Airlines Co., Ltd. "Pratt & Whitney has been powering Sichuan Airlines with its innovative aircraft engines and auxiliary power units since our inception, contributing to connectivity in the region. Sichuan Airlines continues to expand its fleet to offer new routes and destinations, and the GTF engine has helped us reduce fuel consumption and provide a quiet and environmentally-friendly ride for our passengers."
"We are thrilled to support Sichuan Airlines in its fleet and network expansion plans, with the delivery of the fourth of five A321neo aircraft," said Robert Martin, Managing Director and Chief Executive Officer, BOC Aviation. "We congratulate Pratt & Whitney on its 100th GTF engine powered A320neo family aircraft delivery in China, and look forward to building on our long-standing relationships with both Airbus and Pratt & Whitney as we provide our airline customers more fuel-efficient and technologically advanced aircraft solutions."
The Pratt & Whitney GTF engine, which began operating in China in 2016, now powers 100 aircraft in China across nine operators with over 580,000 engine flight hours and 99.98% dispatch reliability, saving an astounding 30 million gallons of fuel and more than 300,000 tonnes of carbon emissions to date. The GTF engine is driving the next generation of efficient, sustainable air travel in China, allowing airlines to open new routes and fly more people, farther, with less fuel – and much lower noise. It results in quieter communities, quieter flights, cleaner air and economic development. Looking forward, China is expected to need more than 7,000 new aircraft over the next 20 years.
"Pratt & Whitney is a long-term partner of the China aviation industry. We are honored to celebrate our 90th anniversary this year in this important and growing region," said Yogesh Farswani, president, Greater China, Customer Business, Commercial Engines, Pratt & Whitney. "As an early adopter of the GTF engine technology, we share Sichuan and BOC Aviation's commitment to being a leader in aviation innovation. There are more than 1,200 Pratt & Whitney employees in China dedicated to improving the customer experience. We have partnered with the industry to make increasing investments in the region, including our Aerotech manufacturing center-of-excellence in Chengdu."
Since entering into service in early 2016, the GTF engine family has delivered on its promised ability to reduce fuel burn by 16 to 20 percent, and to significantly reduce regulated emissions and noise footprint.