Pakistan's swan song of self determination may end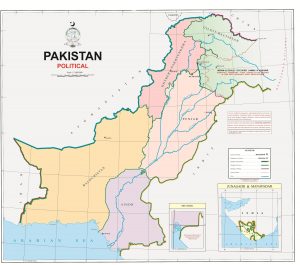 By Jai Kumar Verma
New Delhi. 09 August 2020. The new political map of Pakistan was released by Prime Minister Imran Khan on the evening of 4August 2020, may prove calamitous for Pakistan as it may end the self-determination movement and as new map shows whole of Kashmir as part of Pakistan hence it cannot talk about plebiscite. Now Pakistan can also not assist the forces who are fighting for an independent Kashmir.
Imran Khan published the new map of Pakistan which includes former Jammu and Kashmir state and Junagadh of Indian Gujrat as part of the country. The map was unveiled one day before the first anniversary of defanging of Article 370 from Kashmir which ended the special status of J&K and separated the state into two centrally administered territories Ladakh and J&K.
Imran Khan published the map to please the domestic audience as the general Pakistanis were feeling that the present government could not take any worthwhile action in last one year after India revoked article 370. Imran Khan mentioned that the political map annulled India's "illegal action" of 5 August 2019 under which it withdrew the special status of J&K. He also claimed that the new map which was approved by Pakistan cabinet and the political parties would be included in the syllabus of schools. He stated that Pakistan would continue its efforts to settle Kashmir issue through diplomatic channels. Imran Khan told in the press conference that "This is the most historic day in Pakistan's history".
Shah Mehmood Qureshi the Foreign Minister of Pakistan stated that release of map is an "unprecedented step" as for the first time Pakistan has openly presented its view on Kashmir. He also mentioned that the name of Kashmir Highway is changed to Srinagar Highway. Government would also organise seminars, photo exhibitions and rallies to show Indian brutalities in Kashmir and Pakistan's support to Kashmiri people. Qureshi also made it clear that the map not only reflects the aspirations of the masses but also makes it clear that Kashmir issue can only be resolved through the United Nations Security Council's Resolution of 1948, which is also printed on the map.
The deep state also published the map to please its all-weather friend China as the armed forces of both India and China are facing each other on Indo-China border. There is already a fight between the forces of both the countries on July 15/16 in which 20 soldiers of Indian army including an officer were martyred while according to unconfirmed reports Chinese lost more than 40 soldiers at Galwan Valley. However according to Jilanli Yang, a former PLA official and son of a Chinese communist Party leader, about 100 PLA soldiers were killed in the fierce fighting at Galwan valley on the night of 15 June. Chinese president is hiding the figure as serving as well as retired PLA soldiers may revolt against the present government. The publishing of map suits China as it feels that India is not only becoming aggressive but is also getting support from various countries hence India must be downsized.
The economic condition of Pakistan is deteriorating, and it is surviving on loan or aid from countries like Saudi Arabia, United Arab Emirates and International Monetary Fund (IMF). The financial assistance from IMF is in danger as the Financial Action Task Force (FATF) which is an intergovernmental organisation to curb money laundering and terror financing has placed Pakistan in 'grey list' and threatening to downgrade it to 'blacklist'. If Islamabad is downgraded to 'blacklist' it will not get the remaining instalments of IMF loan. Beijing time and again rescued Islamabad from financial turmoil and emerged as the biggest loan provider. Pakistan which is reduced to a satellite state of China has not shown Shaksgam Valley and Aksai Chin in the map as they are under the control of China.
It appears that Pakistan imitated Nepal which had also published a map showing Limpiadhura, Lipulek, and Kalapani areas in its area although all these areas are part of India since time immemorial. Nepali Prime Minister K. P. Sharma Oli did it to please China.
The residents of Gilgit and Baltistan would also not like to be the part of J&K as they are Shia Muslims while about 80 percent population of Pakistan is Sunni. Needless to say, as radicalisation is increasing the animosity between Sunnis and Shias is also escalating in Pakistan. The extremist Sunnis and Shias have constituted terrorist organisations and attacking each other's mosques and other religious functions.
The publishing of the so-called political map is important for Indo-Pak relations as it has resurrected the 1947-48 maps, over-ruled 1972 Shimla Agreement and 1999 of Lahore Declaration which mentions that all disputes between both the countries would be resolved through bilateral negotiations. Not only this, it also gives right to India to revoke Indus Water Treaty of 1960 which is heavily in favour of Pakistan. The treaty gives water of Beas, Ravi and Sutlej to India while Pakistan has right to use the waters of Indus, Chenab and Jhelum.
Besides pleasing China, the deep state also wanted to hide its frustration that it failed to take any drastic action against India in last one year after it revoked the special status of Kashmir. Pakistan's efforts to internationalise Kashmir issue was miserably failed as most of the countries emphatically mentioned that revocation of Article 370 was an internal issue of India and Pakistan should resolve Kashmir issue bilaterally.
It also appears that both China and Pakistan were amazed to see India's stern reaction on the invasion of China. Both counties were expecting that India will be subdued and PLA forces would extend its occupation of some disputed areas and they will return after humiliating India. But Indian forces which have good experience of mountain warfare have killed large number of PLA soldiers and refused to return from the border areas till Chinese return to the position of April 2020.
The deep state of Pakistan was shocked to see tough stand of India against its mentor China. Beijing was able to muster support from neighbouring countries like Nepal and Pakistan and North Korea but the world comity including USA, Australia, Japan, Vietnam, Taiwan, U.K., France, Russian Federation, Israel, Afghanistan and Bhutan showed support to India directly or indirectly. It appears that China and Pakistan may chalk out some joint plan to handle India.
Ministry of External Affairs issued a short but hard- hitting press release on 4 August on 'political map' of Pakistan. The press release mentioned that "This is an exercise in political absurdity, laying untenable claims to territories in the Indian State of Gujarat and our Union Territories of Jammu & Kashmir and of Ladakh. These ridiculous assertions have neither legal validity nor international credibility."
The Pakistan watchers claim that the new map is a desperate attempt by Imran government to please local Pakistanis because after revocation of Article 370, Inter Services Intelligence (ISI) of Pakistan was also not able to carry out any major terrorist activity in J&K because of strict vigil of Indian security forces in the state. Secondly the deep state is also afraid of carrying out any big terrorist activity as India may resort to a major strike on the terrorist camps in Pakistan. Indian Air Force demolished terrorist camp in Balakot after the suicide bomber of Jaish-e-Mohammed butted his car in a Central Reserve Police Force (CRPF) bus in which 40 CRPF soldiers were martyred.
Pakistan failed miserably to internationalise Kashmir issue as most of the countries mentioned that it is an internal issue. China on behest of Pakistan succeeded in raising Kashmir issue in a closed-door meeting of United Nations on Article 370 but UN agreed that it was an internal matter of India as all other four permanent members of US supported India. Pakistan's exertions to start negotiations with India were also failed as India took a righteous stand that terror and talks cannot go together.
The various nationalities of Pakistan especially Baloch and Sindhi are revolting against the oppressive rule of Punjabi dominated Pakistan army and government. Recently Baloch and Sindhi nationalists have joined hands and announced to oppose China Pakistan Economic Corridor (CPEC).
Pakistan government is playing in the hands of China and in its urge to harm India it is not considering its own losses. The present map is against its own stand and China which is an expansionist country will occupy Gwadar port, arable land of Gilgit and Baltistan and also the mineral wealth of Balochistan. Hence the deep state should stop taking assistance from China and should become self-reliant. It should also stop helping terrorists so that FATF upgrades it from 'grey list'.
(Jai Kumar Verma is a Delhi-based strategic analyst and a retired senior intelligence officer. He is also member of United Services Institute of India and Institute for Defence Studies and Analyses. The views in the article are solely the author's. He can be contacted at [email protected])