By JK Verma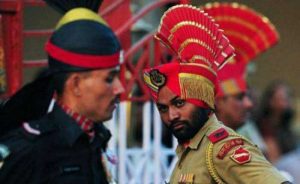 Kashmir situation was at rock-bottom
New Delhi.31 December 2016. 2016 has been a worst nightmare for the two neighbours India- Pakistan, with steadily deteriorating ties despite India's friendly advances which have been either turned down or resulted into back stabbing by Pakistan.
Prime Minister Modi invited heads of State of all South Asian Association for Regional Cooperation (SAARC) countries including Pakistan to attend his oath taking ceremony. Modi also visited Lahore on the birthday of Nawaz Sharif on December 25 last year and visited his hometown but all the friendly gestures of Modi government were shattered when on January 2, 2016 Pakistan trained 6 terrorists attacked Pathankot Airbase in which seven  security personnel including a Lieutenant Colonel were martyred.
Nonetheless Indian government continued its reconciliation efforts and requested Islamabad to take stringent actions against persons/organisation behind the terrorists attack. Indian government also allowed Pakistani team including an officer of sinister Inter Services Intelligence (ISI) to become part of Pakistani investigation team. But Pakistan which has launched a proxy war against India, instead of taking action against terrorists alleged that the attack was handiwork of Indian intelligence agencies and Pakistan was not responsible for the same.
Again ISI trained 4 terrorists of Jaish-e-Mohammed equipped with latest weaponry attacked Army base at Uri on September 18, in which 19 army personnel were killed. Nonetheless this time Indian government took an intrepid decision and resorted to surgical strike inside Pakistan Occupied Kashmir (POK) in which more than 40 Pakistani terrorists and army men were exterminated. It was a spirited departure from the previous policy of "strategic restraint".
Both countries bitterly fought in United Nations and also expelled diplomats of other country on the ground of espionage. Pakistan persistently propagated fictitious stories about the human right violations by Indian security forces in Jammu & Kashmir (J&K). Few human right organisations and NGOs which were financed by ISI were also making phony allegations of brutality by Indian security forces. India was always defensive but this time Prime Minister Modi also raised Balochistan, Gilgit and Baltistan issues in his Independence Day speech from the ramparts of Red Fort.  India also mentioned about the pitiable condition of residents of POK.
The already deteriorated India Pakistan relations became worse as Afghanistan openly blamed Pakistan for terrorist activities in the country. Pakistan which wants to achieve strategic depth in Afghanistan was upset on growing close relationship between its eastern and western neighbours. India also successfully isolated Pakistan but China which considers India as its prospective competitor firmly stood behind the rogue nation.
The separatist outfits were worried because of their dwindling influence in the valley. They were also disconcerted that an ordinary resident of the valley can approach the security forces for assistance. Therefore, ISI-sponsored terrorist outfits were instructed to attack security forces so that the public would consider that the terrorists are more dominant than the security forces.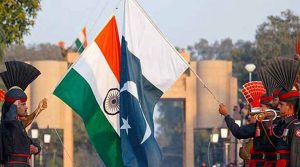 Pakistan Army which could not avenge September 29 surgical strike of the Indian Army also instructed terrorist outfits under their control to target Indian security forces. Military controlled ISI also enhanced infiltration after surgical strike and according to reports more than 100 terrorists were exterminated by security forces in counter-terrorist operations.
Pakistan abetted separatists in Kashmir overtly claim that they want right of self determination for Kashmiris, repeal of Armed Forces (Special Powers) Acts (AFSPA) and demilitarization of Kashmir. In reality these terrorist outfits understand that the silent majority wants to remain part of India therefore the terrorists attack security forces, snatch weapons and kill innocent persons with malicious intention of disturbing peace and tranquility in the valley.
Pakistan which considers Kashmir as unfinished agenda of 1947 constantly infiltrates terrorists and supports several terrorist outfits as well as separatist leaders who disturb law and order, nonetheless valley was peaceful in first half of 2016 but the separatists got a flicker when Burhan Wani Commander of Hizbul Mujahideen was killed by security forces on July 8.
ISI supported secessionist groups including Hurriyat conference took full advantage of the situation and started demonstrations, processions, mob-violence and stone pelting in all 10 districts of the valley. The protesters violated curfew and attacked the security forces and destroyed the public property.
The Security forces had to use tear gas, rubber bullets, and pellet guns to control the violent agitators. Curfew continued for about 53 days in which about 85 civilians and 2 security men were killed and about 13000 civilians and over 4000 security forces personnel were also injured.
Pakistan continued fomenting trouble in Kashmir and Pakistan-trained terrorists killed 87 security personnel in 2016 which is highest after 2008 when 90 security officials were martyred. Out of these 87 casualties, 71 were killed in the Kashmir valley alone. Nineteen army personnel were killed in the terrorist assault in Uri and terrorists also attacked security forces in Kupwara, Pampore, Poonch, Anantnag, Baramulla and Pulwama where 8 CRPF personnel were killed and 21 were seriously injured. ISI trained Lashkar-e-Taiba terrorists ambushed CRPF convoy on June 25 at Pampore and killed 8 CRPF officials. Terrorists attacked security forces at Pampore more than once as it is a crowded place and security forces cannot retaliate as it may hurt innocent citizens.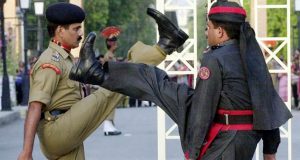 Recently both Pakistan army chief and Director General of ISI, two most powerful persons in Pakistan, have changed and it is expected that new army chief General Qamar Javed Bajwa would be less anti India in comparison to his predecessor Raheel Sharif. Analysts also claim that now Prime Minister Nawaz Sharif may have more leverage with regards to foreign policy towards India.
Aizaz Ahmad Chaudhary Foreign Secretary of Pakistan stated on December 28 that bilateral talks should be restarted. He also stated that the relations between both the countries were not good because there were no talks. It is an indication that civilian government of Pakistan is keen to start negotiations.
The previous regimes have not only radicalized the country but there are so much of anti-India sentiments that it is very difficult to improve relations. Several powerful pressure groups like terrorist outfits, religious organisations, business houses and most importantly Pakistani army are availing undue privileges by projecting imaginary threat from India and all these power centres would never allow cordial relations with India.
Indian government should work on two angles firstly it must tackle Pakistan and instead of pursuing defensive policies, India must adopt offensive strategy. India should give diplomatic assistance to numerous secessionist movements going on in Pakistan especially in Balochistan, Sindh, Muhajirs, Gilgit & Baltistan, Pashtoons etc.  The pitiable condition of POK and Saraikistan should also be highlighted in all world forums including United Nations. India should render more assistance to Balochistan as the Baloch leaders expect whole-hearted support from India.
The Indian policy makers should also consider diverse options including reconsideration of Indus Water Treaty, withdrawing of Most Favoured Nations status from Pakistan just to name few.
After making Pakistan defensive on these fronts, India should chalk out a long term strategy so that Kashmir problem is sorted out. Most Kashmiri leaders including separatists have taken state security and sent their children outside J&K. These leaders must be exposed and if they are really sincere about Kashmir they must relinquish state security and call their children to participate in the demonstrations.
National Investigation Agency (NIA) must try to curb the funding to Kashmiri terrorists. The terrorist outfits give money at the time of recruitment, training and even while participating in the demonstration. The processions and stone-pelting was considerably minimized in first few days of demonetisation. Several business houses in Kashmir are also involved in terror funding through over and under invoicing and recently NIA has seized their documents.  Finance is backbone of any agitation and security forces must break the backbone.
Kashmiri demonstrators challenge the authority of government of India; the security forces under a long term planning must restore the dominance of government without using excessive force. The miscreants responsible for damaging public or private property especially educational institutions must be awarded exemplary punishment by the judiciary.
The security forces should arrest the organizers of the demonstrations and if feasible they should be sent out of J&K so that peace can be restored in the state. All the nationalist political parties should try to resolve the present law and order situation as anti national parties are creating trouble under the instructions of Pakistan. Article 370 is damaging J&K and it is assisting only the secessionists hence an atmosphere should be created so that it can be repealed.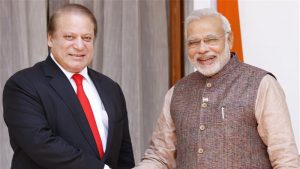 The decision of government to issue domicile certificates to the refugees who migrated from Pakistan 70 years back is an excellent decision and government should not cow down because of opposition of separatists. India has been extending its hand of faith to Pakistan but the fact that Pakistan has not been warmly accepting the shake, has got the relations to a sore point as is the status quo today. Hope 2017 turns out to be a little better and  instills good sense which will hopefully prevail  on India's not-so-friendly neighbour.
(Jai Kumar Verma is a Delhi-based former diplomat and strategic analyst. He was posted in Pakistan. The views in the article are solely the author's. He can be contacted at editor.adu@gmail.com.)