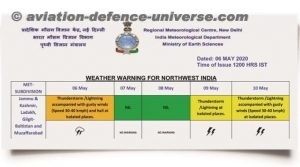 By Jai Kumar Verma
New Delhi. 15 May 2020. Corona is not the only challenge Pakistan is  facing. Imran Khan's biggest worry is India and its Prime Minister. India is slowly but steadily inching forwaard towards solving Kashmir issue as per its charter. In August India defanged Article 370, abrogated Article 35A and divided the state into two union territories. The security forces have launched Operation All Out (OAO) under which large number of terrorists including their leaders are killed. All security forces are working as a team and are getting actionable intelligence.
The National Security Advisor (NSA) chaired a high-level meeting in the state on 9 May in which security of the state was reviewed. The meeting which continued for five hours gave special emphasis on decreasing the infiltration of terrorists. More than 76 terrorists including their commanders were exterminated in 2020. Although ISI has created two more terrorist organisations namely The Resistance Front (TRF) and JK Pir Panjal Peace Forum to enhance the terrorist activities but security forces arrested six TRF activists and unearthed large cache of arms and ammunition.
The Indian government has asked television channels that POK should be included in the national weather forecasts. POK including Gilgit Baltistan will be shown everyday on TV channels as part of India to Indian as well as international viewers. Pakistan's Ministry of Foreign Affairs (MoFA) also issued a statement which mentioned "It was clearly conveyed that the Indian claim over the occupied state of Jammu and Kashmir as an 'integral part' of India had no legal basis whatsoever. The entire state of Jammu and Kashmir is a 'disputed' territory recognized as such by the international community".
Pakistan also alleged that by raising the issue of Gilgit and Baltistan, India cannot escape with the charge of atrocities it is committing on the residents of Jammu and Kashmir. Islamabad also mentioned that India should release all the Kashmiri leaders and lift the restrictions imposed there, after August 2019. The MoFA also mentioned that Indian government's decision of August 2019 to amend the Article 370 was illegal and blatant violation of the resolution of United Nations Security Council (UNSC).
Pakistan lodged strong protests when India defanged Article 370 on 5 August 2019 and abrogated Article 35A. Pakistan also tried to internationalise Kashmir issue, but it could not get much support as most of the countries reiterated that revocation of these articles and dividing the state into two union territories was the internal matter of India.
In a recent judgement Pakistan Supreme Court permitted government to amend the Gilgit- Baltistan Order of 2018 which provided for the administrative changes. The order also authorised the Prime Minister to make rules on many subjects.
In an another move to show its authority on Kashmir Pakistan government signed a Rs.442 billion contract to build Diamer-Bhasha dam in G-B area. On 13 May 2020 Pakistan's Frontier Works Orgnisation (FWO), which is a commercial wing of Pakistan army, signed a contract with state-run company namely 'China Power'. Under the contract China Power has a 70 percent share while FWO has remaining 30 percent share in the world's tallest roller compact concrete (RCC) dam. The dam which has a gross storage capacity of 8.1 MAF (million-acre feet) and an annual generation capacity of 18.1 billion units would be ready by 2028.
The MEA spokesman stated that whole of Jammu and Kashmir is integral part of India and Pakistan is in illegal occupation of this area. India lodged strong protest against the construction of the dam to both Pakistan and China. However, China brushed aside the objection and mentioned that it is a win win situation for all, and the local residents would be benefitted. The dam is constructed on the Indus river near Chilas in Khyber-Pakhtunkhwa and Gilgit-Baltistan region.
Pakistan has been trying to construct this dam since 1980 and was trying to raise money from international organisations but both World Bank and Asian Development Bank (ADB) refused to give the financial assistance because of opposition from India. In 2006 General Pervez Musharraf gave permission to construct the dam.
In past India lodged protests against the China Pakistan Economic corridor (CPEC) as it also passes from Pakistan Occupied Kashmir. China is unhappy over the slow progress on CPEC and pressed Pakistan army to take control of CPEC Authority (CPECA). CPEC is an important segment of Belt and Road Initiative (BRI) which is leading project of Chinese President Xi Jinping. With Lt. General (Retired) Asim Saleem Bajwa heading CPECA the work on $ 62 billion project was expected to expedite.
At present only half of the CPEC projects are proceeding due to financial constraints and restrictions attached by International Monetary Fund (IMF) along with $ 6 billion loan. The CPEC passes through troubled province of Balochistan and the general public as well as separatists outfits are against CPEC. The Chinese Consul General in Karachi Wang Yu also criticised about the "bureaucratic delays" in execution of important CPEC projects. However, the projects are delayed because Pakistanis feel that these projects are in the interest of China and not Pakistan. The Chinese companies have taken the contracts on inflated rates and also charging more interest then the market rates.
The present coronavirus has also increased the problems of Imran government as fundamentalist Imams insisted on Namaz in mosques in the holy month of Ramzan. It will increase patients of coronavirus manifold. Imran Khan which failed in all spheres is trying to emphasise to the masses that India may attack POK hence they should forget day to day problems and be united against India. ISI may try to infiltrate more terrorists hence Indian security forces should be prepared to deal with Pakistan more sternly. However, China which is also getting setbacks in international arena will help Pakistan especially in POK including Gilgit-Baltistan.
On 30 April 2020, a seven-judge bench of Pakistan Supreme Court chaired by Chief Justice Glzar Ahmed permitted Pakistan government to hold general elections in Gilgit and Baltistan. The court also allowed to  constitute a caretaker goverrnment during the interregnum period. However India has lodged a strong protest against the Pakistan Supreme Court order pertaining to the holding of general elections. The ministry of external affairs (MEA) issued a "demarche" which mentioned that "The government of Pakistan or its judiciary has no locus standi on territories illegally and forcibly occupied by it. India completely rejects such actions and continued attempts to bring material changes in Pakistan occupied areas of the Indian territory of J-K".
The demarche also mentioned that "It was further conveyed that such actions can neither hide the illegal occupation of parts of Union Territories of Jammu & Kashmir and Ladakh by Pakistan nor the grave human rights violations, exploitation and denial of freedom to the people residing in Pakistan occupied territories for the past seven decades,". The MEA also mentioned that Islamabad should instantly vacate all areas which are under its unlawful possession.
On 4 May India summoned Pakistan's senior diplomat about the current judgement of Supreme Court on Pakistan occupied Gilgit and Baltistan areas of Kashmir.  Pakistan's Foreign office also summoned senior most Indian diplomat same day and rejected India's argument over the conduct of elections in Gilgit and Baltistan.
A peep into history not so far away, in August 2009 Pakistan passed "Gilgit-Baltistan Empowerment and Self Governance Order -2009" under which besides other changes it also amended its name from Northern Areas to "Gilgit Baltistan". India lodged a strong protest  that time also. Again, in November 2009 elections were held of the "legislative assembly" of G-B as Pakistan was trying to convert G-B into the fifth province. India lodged a strong protest against these illegal moves of Pakistan. India also sent protest notes in 2015 when elections were held for the legislative assembly of G-B. MEA also sent demarches against the election process for the election scheduled to be held in September 2020.  Now with COVID-19 having changed the world schedules, will Imran's Pakistan continue with this optimistic exercise?
(Jai Kumar Verma is a Delhi-based strategic analyst and member of United Services Institute of India and Institute for Defence Studies and Analyses. The views in the article are solely the author's. He can be contacted at [email protected])