By JK Verma
New Delhi. 12 January 2018.The security forces in J&K are all out to eliminate terrorist organisations by targeting their leaders. And Operation All Out is in full swing to reduce the number of hardcore terrorists which was increasing rapidly. In 2017 not only several local youths who joined terrorism were also eliminated but the number of Kashmiris attending the funerals of slain terrorists is considerably reduced.
In a recently held press conference, Director General of Jammu & Kashmir Police, Shesh Paul Vaid stated that Operation All Out is based on a "holistic strategy" to take out young Kashmiris from the path of terrorism and its object is not to exterminate terrorists but to take them back in the mainstream. He further mentioned that few months back appeal was also made to young Kashmiris who joined terrorism to leave this dangerous path. Field Officers as well as parents, especially mothers came forward and large number of ill-advised youths shunned the path of terrorism.
The security forces before launching Operation All Out chalked out a detailed plan how to eliminate terrorists from the state. The blueprint included all the troubled areas, have marked the main hiding places of top commanders of terrorist outfits including Lashker-e-Toiba (L-e-T), Jaish-e-Mohammed (J-e-M), Hizbul Mujahdeen (HM) and Al-Badr. The intelligence organisations with active support of local police made a list of about 258 hardcore terrorists which included 130 local Kashmiris and 128 foreign terrorists. The well crafted list mentioned that approximately 136 terrorists belonged to L-e-T, 95 terrorists from HM while 27 were from J-e-M.  It also segregated the terrorists districts wise and mentioned the number of hardcore terrorists in districts like Sopore, Shopian, Awantipurea and Kupwara.
Police Chief further revealed that with the joint efforts of parents, civil society and police 75 local youths were also successfully persuaded not to join terrorism. The return of footballer Majid Khan from the clutches of terrorist outfit is encouraging and may go a long way. The cases of 5500 stone-pelters are being reviewed while 4300 first-time stone pelters were pardoned.
He also clarified that struggle against terrorism would continue in 2018 also. The security forces have successfully eliminated 206 terrorists including 85 locals and 121 foreign terrorists in 2017. However 31 policemen were martyred and 24 civilians also lost their lives. More civilians were killed as under Operation All Out, security forces cordoned and searched (C&S) even those areas where security forces were not able to penetrate in last two years. Without naming Pakistan the police chief made it clear that the neighbour is continuously infiltrating terrorists.
Under Operation All Out, the security forces are eliminating the commanders of different terrorist organisations.  The list of commanders included Abu Dujana, Junaid Mattoo, Sabzar Bhat, Bashir Lashkari, Muhammad Yasin Itoo, Irfan-ul-Haq, Umar Majeed Mir, Sajad Gilkar just to name few. The commanders of diverse terrorist outfits were not only carrying out terrorist activities but were also involved in recruiting the young Kashmiris for terrorist outfits.
In 2017 the security agencies also tightened their grip on drug smuggling. 34 persons were arrested who were involved in reprehensible drug-trade. There is a close nexus between drug smuggling and terrorism. The nefarious Inter Services Intelligence (ISI) is utilizing the high-level underhand contacts of drug smuggling and the money generated through it in spreading terrorism in India.
The comprehensive plan also included names of several support agents who were giving shelter and providing assistance to terrorists. These support agents were also doing reconnaissance and were also working as guides to the terrorists especially foreign terrorists. The role of support agents is very important and terrorists cannot function without support agents. The security forces arrested large number of support agents and these support agents informed security agencies about terrorists during sustained interrogation.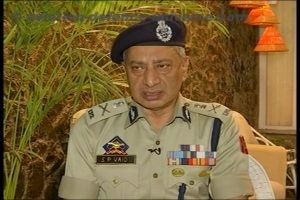 In this way it became easier for security forces to haunt and exterminate the hardcore terrorists.  Besides neutralizing terrorists within the state, security forces have also enhanced vigil on the borders and exterminating the infiltrators. According to reports about 350 trained terrorists are waiting near Line of Control to infiltrate.
Intelligence organisations also prepared the list of arms & ammunition available to the terrorists and also made arrangements to seal the places from where they were receiving the armaments. The terrorists are getting primarily sophisticated Chinese weapons with more accuracy and increased fire power. Besides firearms terrorists are using Chinese hand grenades also.
As infiltration and ex-filtration has become difficult due to extra vigilance of security forces, the terrorists are imparting training to Kashmiri youths locally. Training of fire-arms is given in thick forests while basic physical trainings are given in towns. There are no permanent places for training and the training places are continuously changed so that the security forces cannot demolish them.
In past security forces have launched several operations in Kashmir but the operations were mainly to force Pakistan army which entered Indian territory to capture Kashmir, however the present operation is against terrorists who want to capture Kashmir on behest of Pakistan.
L-e-T and other terror outfits assisted by ISI tarnished the Sufi culture of J&K and foisted fundamentalist Islam in the state hence more and more local Kashmiris are joining the terrorist outfits and now they give more resistance to security forces than before. There is also hike in weapons snatching from security forces and it is a cause of worry to policy planners. It is a dangerous trend and the local political leaders, good intentioned NGOs and administration must take decisive steps to curb this trend.
The security agencies claim that because of Operation All Out security forces have flushed out terrorists from the congested areas where security forces were not entering because of support of local residents to terrorists. Now terrorists are also afraid to take shelter in these areas as they fear that intelligence agencies may know about their presence. Not only this previously terrorists were staying and brandishing their automatic weapons openly just to impress the masses and showing that they were not  afraid of security agencies but now scenario has changed and the terrorists are scared that their hiding places should not be known to security forces as they can be eliminated.
The efforts of National Investigation Agency (NIA) of tightening the grip over dishonest businessmen who were financing the terrorists on behest of ISI is an excellent move and there are reports that separatists are facing financial crunch and are not able to pay liberally to stone pelters.  No terrorist movement can function without money and these businessmen were earning money through over and under invoicing and were financing the secessionists.
The separatist movement in J&K which is continuing in the state from last several years cannot be wiped out through force only hence appointment of Dineshwar Sharma, former Chief of Intelligence Bureau as an interlocutor with special powers is a welcomed move.  Sharma has remarkable knowledge of Kashmir dispute and will negotiate with secessionists when terrorists are losing ground and local Kashmiris want peace as tourism has declined. The government also announced that Operation All Out will continue even during negotiations hence secessionists cannot utilize time of negotiations for recouping their strength. Although Hurriyat leaders openly declined to meet Sharma but there are reports that few secessionist leaders have already established contact with the interlocutor.
The policy planners are also perturbed because of increase of the influence of Islamic State (IS) in J&K. The terror outfit has successfully glamorized the role of terrorists in the society and as fundamentalism and radicalisation has increased in the state more and more young Kashmiris are joining the terrorist outfits.
The secessionists show inspirational videos and audios projecting the terrorists as Jihadists who are fighting holy war for establishing Islamic rule in the state. There are reports that Kashmiri youths are chatting from IS recruiters through fake identities. The IS has a vast fan following in J&K and other terrorist outfits like L-e-T, J-u-D are following the footsteps of IS. Kashmiri youths are also viewing the videos of Iraq and Syria where IS fighters defeated the forces of Iraq and Syria supported by Western powers. Local Kashmiri youths are more attracted towards IS than L-e-T, J-u-D etc. Hence security forces must take preventive measures so that unemployed and disillusioned youths do not join terrorist outfits.
Once peace is established in the state sincere efforts should be made to relinquish Article 370 and article 35 A as they are the main hurdles in restoring permanent peace in the state.
Central government is giving lot of facilities to J&K while local Kashmiris feel that they are getting these amenities because they show themselves as pro-Pakistan and anti-India. Government must make it clear that these privileges are given but can be withdrawn if they continue to remain anti-India.
The present government should continue its efforts of isolating Pakistan and the latest statement of President Trump about freezing of US aid to Pakistan is a great success. The financial condition of Pakistan is precarious and if it loses US aid it will be a big jolt to the country.
(Jai Kumar Verma is a Delhi-based strategic analyst and a retired senior intelligence officer. The views in the article are solely the author's. He can be contacted at editor.adu@gmail.com)