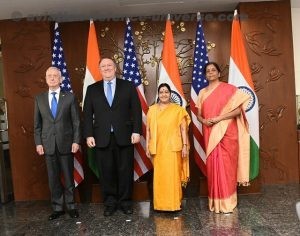 By J K Verma
New Delhi. 06 September 2018. Once again US reaffirmed the strategic importance of India's designation as a Major Defense Partner (MDP) of the United States and committed to expand the scope of India's MDP status and take mutually agreed upon steps to strengthen defense ties further and promote better defense and security coordination and cooperation.
The path-breaking twice postponed 2+2 dialogue between External Affairs Minister Sushma Swaraj, Defence Minister Nirmala Sitharaman, and US Secretary of State Mike Pompeo and Secretary of Defence James Mattis was held in New Delhi. As a special gesticulation, both Sushma Swaraj and Nirmala Sitharaman, received the visiting dignitaries at the airport.
The deeply awaited Communication, Compatibility, Security Agreement (COMCASA) was signed. The agreement will further strengthen, India US relations, as US has already designated India as a "Major Defence Partner" in 2016. The COMCASA agreement would entitle India to purchase high-tech military equipments from United States. India has already signed Logistics Exchange Memorandum of Agreement (LEMOA) in 2016 and COMCASA in 2018. Now India needs to sign third and last, Basic Exchange and Cooperation Agreement (BECA).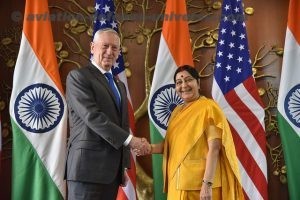 After signing COMCASA, Indian armed forces got access into sensitive and highly-protected secure communication pertaining to American platforms purchased by Indian armed forces. These sensitive platforms are also related to various airplanes including C-130-J, P81, C-17, Chinook and Apache helicopters.  Both sides agreed to make changes in the agreement, as per Indian requirements, hence its name is changed from Communication and Information on Security Memorandum of Agreement (CISMOA) to COMCASA.
The Trump administration also gave STA-1 (Strategic Trade Authorization-1) status to India which indicates the importance US administration confers to India. After signing the agreement, India can also buy armed Sea Guardian drones. USA has not sold these drones to any country outside NATO so far. After the agreement both countries can also share intelligence in time of need.  India was hesitant to sign the pact because there was doubt that US may be able to track down the Indian warships and aircraft fitted with COMCASA protected weapons.
US is also concerned that its high technology military-sensitive equipments may not fall in Russian or Chinese hands. India bought weapons worth $ 15 billion from US in last decade and US has emerged as the second biggest supplier of arms and ammunition to India after Russia.
The negotiations between both the countries were lingering from last ten years but the agreement was not inked. The COMCASA, which comes in the force immediately, will be valid for 10 years. The analysts mention that after signing the agreement, India will lose its operational independence and it will also endanger time-tested old and strong military ties with Russia. After signing COMCASA Indian access to Russian armaments would be restricted.
It was also decided to establish hot-lines between External and Defence Ministers of both the countries. Mike Pompeo also promised to help India to gain the membership of Nuclear Suppliers Group (NSG) and the litigious issue of H1B visa was also discussed.
Indian side also conversed about the purchase of Iranian oil and S-400 Triumf, which was previously known as S-300 PMU-3, is an anti-aircraft weapon system developed in Russia in1990. India is negotiating for five systems at a total cost of about $5.5 billion.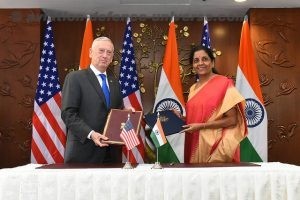 Iran supplied 18.4 million tonnes of crude oil to India between April 2017 and January 2018 as it is the third largest oil supplier to India after Iraq and Saudi Arabia. India pays for Iranian oil in Euros and also supplies articles like wheat, soybean and other consumer goods in lieu of oil. Hence it will be difficult for India to stop oil import from Iran. However Pompeo made it clear that India should make sharp reductions in purchase of oil from Iran. However he had not mentioned any specific quantity. Sushma Swaraj mentioned about Indian dependence on energy import. In the press conference Pompeo made it clear that sanctions will be imposed from November four but some waiver may be worked out. US Secretary of State while talking to American media mentioned that US will try to avoid putting sanctions on the purchase of Russian S-400 by India.
Pompeo and Mattis came to India after visiting Islamabad. Few days before their visit to Pakistan, US announced suspension of $300 million, military support funds to Pakistan as it has not stopped assisting Afghan Taliban, who are incessantly attacking US led NATO troops and Afghan troops. Not only are this, Taliban taking shelter in Pakistan. Analysts claim that US administration announced suspension of aid few days before the visit of Pompeo and Mattis, just to give a stern message to Pakistan that it must stop assisting Taliban. This is the second important cut in 2018. These announcements of aid cuts generated lot of anti-American sentiments in media and public but the government had not issued anti- American statements.
Pompeo made it clear that US does not want to stay in Afghanistan forever, hence there must be negotiations with Taliban, so that a political settlement can be reached. Zalmay Khalilzad, a former U.S. Ambassador to Afghanistan and Iraq, also travelled with him and soon he will join the Trump administration as a special envoy in Afghanistan. Khalilzad, will monitor the peace-negotiations with Taliban. US administration is determined to end insurgency in Afghanistan and is aware that Pakistan is in position to bring Taliban on negotiation table. However, now Trump administration has taken much stringent posture towards Pakistan as it feels that Islamabad is deceiving US from last several years.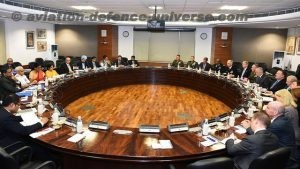 US has confirmed evidences that Afghan terrorists have bases in Pakistan and are taking shelter there. Recently they attacked Ghazni an important Afghan city, near Pakistan border and after attack Afghan Taliban returned to Pakistan for treatment and burial. During negotiations US ministers were insisting on Pakistan to stop assistance to Taliban and press them to start negotiation, while Pakistan side continuously stressed that US is favouring India against Pakistan.
Indian Minister of External Affairs also stressed on the need of Afghan-led and Afghan controlled peace-negotiations. In India lot of discussions were held on terrorism especially about the cross-border terrorism. The joint statement mentioned that "The ministers denounced any use of terrorist proxies in the region, and in this context, they called on Pakistan to ensure that the territory under its control is not used to launch terrorist attacks on other countries." The joint statement also urged Pakistan to accelerate the cases against the executioners of terrorist attacks in Mumbai, Pathankot and Uri as well as those who are mastermind of other cross-border terrorism.
The Ministers also welcomed the bilateral negotiations, so that other terrorist outfits namely Al Qaeda, Islamic State of Iraq and Syria (ISIS), Haqqani network, Lashkar-e-Toiba (L-e-T), Jaish-e-Mohammad (J-e-M), Tehrik-e-Taliban Pakistan (TTP), Hizb-ul-Mujahideen (HM), D-Company and their splinter groups can also be declared as international terrorist outfits.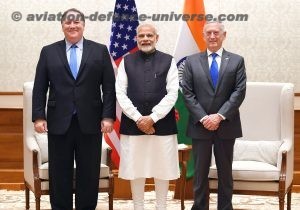 A tri-service exercise between both the countries would also commence from next year. The amphibious exercise will also include Humanitarian Assistance and Disaster Relief (HADR). Besides this the defence ministers also decided to negotiate on Industrial Security Annex (ISA), which will further enhance defence cooperation and collaboration. The ISA will be helpful as India has opened the defence sector for private business enterprises.
Both sides also discussed about cooperation in High Seas mainly on Indo-Pacific, which indirectly means China. The growing India-US relations can also be seen with relation of rising Chinese influence in the region. The visiting ministers also met Prime Minister Modi for about an hour.
(Jai Kumar Verma is a Delhi-based strategic analyst and a retired senior intelligence officer. He is also member of United Services Institute of India and Institute for Defence Studies and Analyses. The views in the article are solely the author's. He can be contacted at [email protected])