Imran Khan Blames India For The Debacle
By JK Verma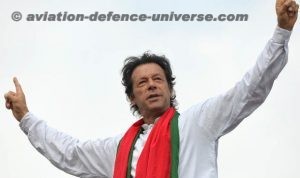 New Delhi. 28 August 2019. Pakistan was downgraded to the lowest tread i.e. "enhanced, expedited follow-up" by the Asia Pacific Group (APG) in a meeting held at Canberra (Australia) from 18 to 23rd August 2019. The APG which is one of nine regional associate of the Financial Action Task Force (FATF), which is an international anti-money laundering watchdog, reviewed the five-year Mutual Evaluation Report (MER) for Pakistan and decided to relegate it from the present 'grey list'. Although the present downgrading will not enhance the already imposed restrictions, but it is the result of quarterly assessment of the measures taken by Islamabad. Besides Pakistan China, Taiwan, Hong Kong, the Philippines and the Solomon Islands were also assessed in the meeting.
The final report of APG will be out in a meeting in Paris from 18 to 23 October 2019 and the next review will be on 5 September in Bangkok. The Finance Ministry of Pakistan although accepted that it was placed in the enhanced follow-up but took the stand that it is not 'blacklist' and the terminology used by its detractors is 'incorrect and baseless'. Officials of Finance Ministry also clarified that in the first review APG only analysed the actions taken by Pakistan till October 2018 while APG in next two sessions will evaluate the actions taken by Islamabad from October 2018 till date.
The Finance Ministry of Pakistan also issued a statement in which it acknowledged that the APG has put the country in a lower list, but it is not the 'blacklist'. In fact, the Finance Ministry has issued this statement more for domestic consumption and to contradict Indian media which repeatedly claimed that Pakistan was 'blacklisted.' Pakistani media also quoted FATF senior official Alexandra Wijmenga-Daniel that only FATF can blacklist the country. The APG cannot downgrade Pakistan from 'grey list' to 'blacklist'
Islamabad claimed that it took several stringent measures including stopping of financing channels of all the terrorist outfits barred by UN Security Council. These terrorist groups included Lashkar-e-Toiba (L-e-T) and Jaish-e-Mohammad (J-e-M). The terrorist leaders comprising Hafiz Saeed co-founder of L-e-T and Chief of Jamaat-ud-Dawa (J-u-D) were charged under the Counter-Terrorism Department's terror financing Laws. United State in 2012 announced a reward of $10 million on Hafiz Saeed. Islamabad has frozen all assets of the J-u-D and other terrorist outfits banned by the UNSC. Government changed few existing laws and is also trying to modify the Anti-Terrorism Act so that it full-fills the stipulations of FATF. However according to APG, Islamabad failed in 32 out of 40 'compliance' parameters and also remained unsuccessful in satisfying 10 out of 11 UN sanctioned parameters against money-laundering and terror- financing. Pakistan delegation submitted a 450 pages compliance report to FATF but failed to satisfy the 41- member plenary which instead of upgrading the status further downgraded it.
Sometimes back a US delegation also visited Pakistan for an independent assessment of the implementation of 27-points action plan of the FATF. The delegation met minister Hammad Azhar coordinator on FATF and raised concern on the sluggish implementation of 27-point action plan.
Prime Minister Imran Khan instead of controlling ISI which has raised several terrorist outfits to carryout terrorist activities in neighbouring countries especially India and Afghanistan, blamed India for lobbying in APG which downgraded the rating of Islamabad. The military controlled ISI has waged a low intensity war against India and the civilian government is in no position to restrict ISI activities. Imran Khan further mentioned that he tried to normalise ties, but India has not reciprocated but exploited the situation. The ruling party took full advantage of Pulwama terrorist attack in the general elections and created a 'war-like' situation to distract world attention from Kashmir issue. India which is member of both APG and the FATF consultations sent a strong delegation which consists of the officers from Ministry of External Affairs, Finance and Home Ministry. However, U.S., U.K., France and Germany pressed for the demand of review of Pakistan. The Governor of State Bank of Pakistan headed the Pakistan's multi-ministerial team at the APG meeting in Canberra.
At present Pakistan is passing through a worst economic crisis and downgrading will further deteriorate the situation as Islamabad will not able to get loan from international agencies and foreign countries will also avoid investing. Foreign investment in Pakistan is already considerably reduced due to deteriorated law and order situation. In last financial year the foreign investment was $3.2. billion while it was reduced to $ 1.2 billion in the current financial year. If APG puts the country in blacklist of FATF there will be the risk that International Monetary Fund (IMF) may stop giving already promised $ 6 billion loan to Pakistan. In past US was the major aid donor, but President Trump who criticised Pakistan several times for assisting the diverse terrorist outfits curtailed the financial assistance. In 2017 US reduced the aid to $893 million but in 2018 it was further slashed to $438 million only.
In case Pakistan continues to remain in 'grey list' the international agencies like World Bank, IMF, The Asian Development Bank (ADB), European Union (EU) as well as Standard & Poor's (S&P), Moody's and Flitch would also reduce their ratings. According to Pakistan Foreign Minister S M Qureshi the country is losing about $ 10 billion dollars per year because it is in 'grey list'. The amount will considerably enhance if Pakistan falls in 'blacklist'. Pakistan is in 'grey list' since June 2018 as its laws and the implementation are not capable to stop money laundering and terror financing.
Pakistan was downgraded to the lowest tread i.e. "enhanced, expedited follow-up" by the Asia Pacific Group (APG) in a meeting held at Canberra (Australia) from 18 to 23rd August 2019.
After the APG downgraded the grading of Pakistan the civilian government constituted a 12-member committee headed by minister for economic affairs Hammad Azhar to comply the 27-points action plan given by FATF. The high-level committee consists of federal secretaries of foreign affairs, finance and interior besides them chiefs of all the departments dealing with terror financing and money laundering. However, the moot point is whether the all-powerful military and ISI will allow the present committee to implement the action plan of FATF. ISI has nurtured diverse terrorist outfits to carryout terrorist activities in the neighbouring countries and it has become an important part of country's foreign policy.
The FATF plenary session at Paris in October will decide whether Islamabad should be removed from 'grey list' or continue to be kept in grey list or it should be downgraded to blacklist. The analysts claim that although Pakistan should be downgraded to blacklist of non-cooperative countries, but it will not happen because as per the rule any three countries can veto the move. Islamabad will get the support from China, Turkey and Malaysia, these countries will veto any move to downgrade Pakistan to the blacklist. However, these countries will not able to remove Pakistan from 'grey list' as the APG's findings of August 23 are quite adverse.
(Jai Kumar Verma is a Delhi-based strategic analyst and member of United Services Institute of India and Institute for Defence Studies and Analyses. The views in the article are solely the author's. He can be contacted at editor.adu@gmail.com)